Posted Apr 28, 2021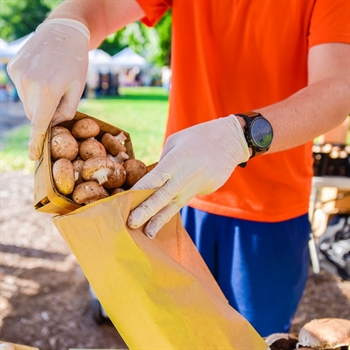 Ahead of our 2021 farmers market season, we chatted with Eric Rose of River Valley Ranch in Burlington, Wisconsin about his experience as a small-scale farmer weathering the pandemic. Learn more about the Covid-19 Farmer Relief Fund, and how you can provide immediate relief to sustainable farmers and food producers who have been hard-hit during this pandemic.
Eric has been selling with Green City Market since it started in 1999. Abby Mandel, Green City Market's founder, personally recruited River Valley Ranch to sell at the market. (Eric shared that she actually wound up buying his inventory once or twice that first season to make it financially viable for him to attend in the early years.)
---
GCM: What challenges has your farm faced in the last year?
Eric: Going from robust business in February [2020] to March? That certainly was a curveball to deal with. Having gone from really good sales right before the start of the Covid crisis to having virtually no wholesale business by the end of April when all the restaurants were closed, which had been most of our business, was a challenge. Shifting somewhat to grocery business helped a little bit, but it didn't nearly account for our production.
People started coming into our retail location that hadn't shopped before, and we started doing curbside pick-up so people could order online and pick up their groceries. Those were some of the things we did in the short-term that helped quite a bit.
As farmers' markets began to open up, we were able to adjust for Covid safety restrictions and conduct business at market. [Green City Market] has historically been a big piece of our business… We had to get creative, we had to reduce production dramatically for a period of time because we couldn't sell everything we were producing. We didn't have outlets for a lot of products; a lot went to food pantries in March and April.
GCM: What do you anticipate will be distinct about this upcoming season? What do you think will be difficult, and where do you find hope right now?
Eric: I'm hopeful that our farmers market business continues to thrive. We actually saw an uptick in sales, which I was kind of surprised about given the restrictions we had to deal with, but customers came out strong, so I'm hoping to see more of that kind of growth this year. We're optimistic that demand for good food is going to continue.
We saw increased support from the community; we saw a lot of new faces; we made a lot of new friends last year. I think people's focus shifted a bit because of the pandemic to 'Where can I get good food?'
Even with the difficulties from last year, we've seen growth for our business. It's different from where I thought we'd be a year ago, with different distribution channels. People are still going to eat, and they still want good food, so we're focused on producing good, healthy food.
GCM: What do you want Chicagoans to know about the state of farming right now?
Eric: There's no value in growing things if we can't sell them. I'm super grateful to be getting that kind of support [from Green City Market and its customers]. We're surviving on the strength of local consumption; we're not anonymous producers. We're face-to-face with our customers, and that's how my business overall is set up.
---
After last year's crisis-filled season, you can help bring local farmers like Eric back to market for another chance to make their sustainable businesses thrive. Donate by April 30 and get your donation matched as part of GCM's Covid-19 Farmer Relief Fund just in time for the reopening of our markets on May 1.