Posted Sep 28, 2022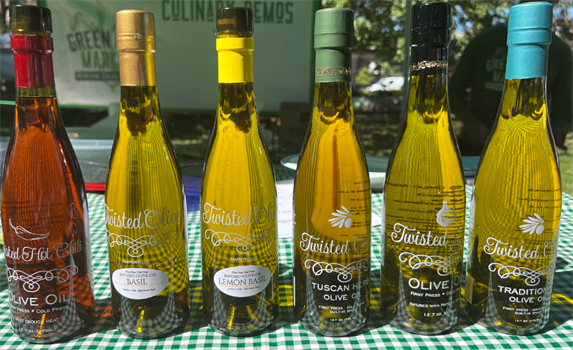 Last week, Twisted Olive joined us at GCM Lincoln Park and demoed recipes for Roasted Pumpkin Seeds and Fall Maple Salad. These were very fun recipes to celebrate the start of fall. Find the full recipes below.
---
Twisted Roasted Pumpkin Seeds
Ingredients
2 cups pumpkin seeds or other squash seeds, washed off and dried
1 teaspoon kosher salt
2 tablespoons brown sugar
1 tablespoon Twisted Olive Traditional Olive
1 teaspoon Twisted Aged Balsamic.
1 teaspoon vanilla extract
Instructions
Preheat oven to 350.
Line a baking sheet with parchment paper and spread the seeds out. Drizzle with the salt, brown sugar, Twisted Traditional Olive Oil, Twisted Aged Balsamic and vanilla extract. Toss to combine and spread out in a thin layer.
Bake for about 10 minutes, then start watching them. They will take about another 5-10 minutes to get golden.
Let cool and store in an airtight container.
Twisted Fall Maple Salad
Ingredients
3-4 cups chopped sweet potatoes (1/2-inch cubes) about 2 medium sweet potatoes. (May substitute butternut squash)
2 tbsp Twisted Traditional Olive Oil
4 cups packed, chopped kale about 1 bunch kale
4 cups thinly sliced brussels sprouts about 12 brussels sprouts
1/2 cup chopped walnuts (May substitute almonds or pecans)
1 cup shredded parmesan cheese (May substitute ¾ cup of Feta or Goat)
1 granny smith apple, chopped
Maple Balsamic Dressing
2 tbsp Twisted Garlic Olive Oil
2 tbsp Twisted Traditional Olive Oil
3 tbsp Twisted Aged Balsamic
2 tbsp maple syrup
1/4 tsp coarse salt
pinch pepper
INSTRUCTIONS
Pre-heat the oven to 415F. Place parchment paper on a large baking sheet. Add cubed sweet potatoes to the pan and mix with 2 tbsp Twisted Traditional olive oil, generous pinches of salt and pepper. Roast for 30-35 minutes, turning halfway through, until starting to turn golden.
While the sweet potatoes are cooking, prep the salad dressing and remaining salad ingredients. Salad dressing: shake all ingredients together in a mason jar or container, set aside. Vegetables: chop kale, slice brussels sprouts, chop walnuts, measure out parmesan cheese.
Once sweet potatoes are done, remove from the oven and let cool slightly.
Chop the apple and then in a large bowl mix in with chopped kale, sliced brussels sprouts, chopped walnuts and parmesan cheese.
Give salad dressing one more good shake to combine then pour over salad. Toss the salad well and then add in cooked sweet potatoes. Mix gently once more and then serve.