Posted Jun 11, 2019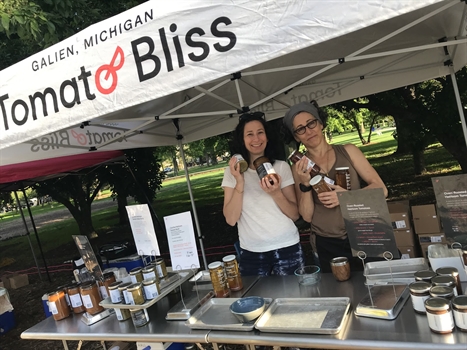 Tomato Bliss Spotlight
Two words that are perfect partners...Tomato & Bliss. To us, tomatoes are pure bliss. Especially beautiful homegrown heirloom tomatoes. Our friends at Tomato Bliss one of our newest Wednesday only vendors tell us there used to be 15,000 heirloom tomato seeds in cultivation. But sadly today, there are less than 25 seed varieties used in 90% of commercial tomato production. Tomato Bliss uses over 100 varieties of heirloom tomato seeds and they believe getting heirloom seeds into commercial agriculture is key to healing the environment.
Their tomatoes are as unique as some of the names; Aunt Ruby's, Nebraska Wedding, Kellogg's Breakfast, and of course the German Pink just to name a few that are grown on the three acres of Michigan farmland. Tomato Bliss specializes in heirloom tomatoes that are picked at the height of freshness and then jarred.
Marie with Tomato Bliss tells us, in 2019, WWF, the world's leading independent conservation organization named heirloom tomatoes as one of the 50 top future foods. Heirloom tomatoes are great for the earth and they're nutritionally better than commercial tomatoes.
We asked Marie to tell us a little more about Tomato Bliss.
How long have you been farming?
We started as urban farmers with heirloom tomatoes in 2010. In 2016, we began farming in southwest Michigan at a farm which had been fallow for twenty years. A spring-fed pond on the property is filled with lotus flowers so we called our farm: Lotus Flower Farm. It's in Galien Michigan on the southwest tip of Michigan's fruitbelt about 75 miles from Chicago.
What does farming mean to you?
Our farm is an individual farm dedicated to sustainable approaches to land preservation and food production. Our essential goal is to create an integrated farm that is self-sustaining and good for the soil. We believe that by practicing seed diversity and finding consumer support for flavorful and nutrient-dense colorful tomatoes we can find a new way to farm that will regenerate soil.
What are you excited about growing this season?`
A diverse mix of shapes and colors of heirloom tomatoes! We also grow other heirloom and specialty vegetables. This year we're trying fava beans.
What is your third party certification, why did you choose that certification?
We practice sustainable soil regenerative practices and our farm is Certified Naturally Grown. The Certified Naturally Grown certification supports peer-to-peer inspection and helps farmers get to know farmers and share farming ideas with people who are ecologically-minded and practicing sustainable farming in the same climate as we are.
What do you want people to know about you?
We began as creative artists and for a community-building project called General Economy, Exquisite Exchange (G.E.E.E.) we used heirloom tomato seedlings to spark creative exchanges around Chicago. The project became popular and by 2014 we were sharing over 5000 heirloom tomato seedlings with Chicagoans all over the city. They were easy to grow and people loved the tomatoes so we decided that we wanted to take this creative idea and see if we could make it into a project that could make a difference in the agricultural community.