Posted Oct 15, 2018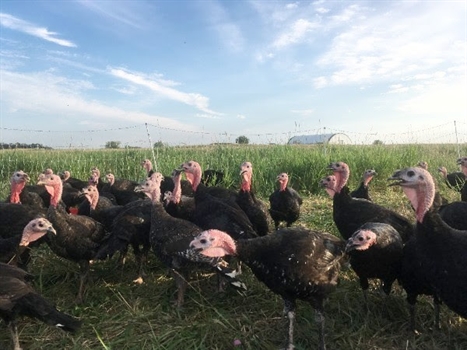 Stay ahead of the curve on your Thanksgiving dinner prep at our markets this week by pre-ordering your turkey from Green City Market farmers and ranchers. All meat and poultry farms at our markets are certified sustainable by USDA Organic, Animal Humane Certified, Certified Humane Raised & Handled, and Animal Welfare Approved, so you can feed your family with food you trust. Here is everything you need to know about your Thanksgiving bird farm by farm:
Mint Creek Farm
Mint Creek Farm is an organic-pasture based livestock and poultry farm that believes all farm animals should graze together symbiotically on perrenial pastures in order to support the biodiversity and fertility of the land. They raise turkeys that roam wild on fresh grass and legume pastures, moving them regularly from paddock to paddock. This year, they are offering fresh and frozen White and Bronze turkeys for preorder and pickup at various locations this Thanksgiving season. You can pre-order your bird online or at market, accompanied with a $25 deposit per turkey.
Alden Hills Organic Farms
As a Certified Organic farm, Alden Hills Organic Farm raises their Broad Breasted White Turkeys on open-pasture where they can feed on grasses and insects. Farmers Levi and Emily believe that access to nature makes their turkeys taste phenomenal and ensures that they are raising the healthiest meat for you. Due to limited number of turkeys available, they recommend you pre-order online along with a $25 non-refundable deposit. Turkeys will be available for pickup at multiple locations, including our indoor market.
Finn's Ranch
Sean and Alejandra Finn started the 14-acre Finn's Ranch in 2014. Currently, they own and run a Certified Organic Pasture farm in Buchanan, Michigan. With the help of their two sons, they raise a wide range of free-range animals, such as cows, chickens, turkeys, pigs and more. This year, they are offering a heritage breed turkey that has been fed a non-GMO organic feed. Only limited turkeys are available at $4.95/lbs, ranging 12-18lbs per bird, so a $25 deposit is required. Turkeys will be in a frozen state. You can pre-order your
bird by emailing orders@finnsranch.com and arrange at pickup location of your choice, including our indoor market.
Jake's Country Meats
Each year Jake's raises a limited number of Broadbreasted White Turkeys just in time for the holidays. Like all of their animals, their turkeys are raised outdoors on pasture without the use of antibiotics and fed a non-GMO diet, which they enjoy tangential to their foraged diet. Their birds range from 12-20 lbs at $4.50 per lb. Pre-order your turkey from Jake's by emailing jakescountrymeats@gmail.com or at the market, and paying a $20 deposit. Turkeys will be frozen and available for pick-up at our Indoor Market on November 17th.
To pre-order your turkeys in person and shop for your Thanksgiving essentials, our Indoor Market will be open Saturdays in November, excluding the 24th, from 8am-1pm at the Peggy Notebaert Nature Museum.