Posted Aug 21, 2018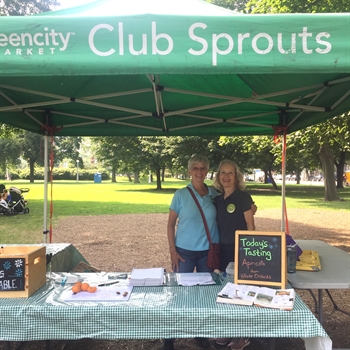 A Club Sprouts member told me a touching story at market the other day. He is almost two years old and has become a regular visitor to the Wednesday morning Club Sprouts table. With his mother's help, he has learned the names of the volunteers, Bob and Judy. During a recent visit to Club Sprouts, his mother told us that he played Kids' Tasting Table at home in the kitchen one day. He said he was Judy and handed out tasting samples to his family members.

This story represents the importance of the Green City Market's Club Sprouts program in the development of our youngest visitors to the market. Our volunteers play an important role in the ongoing success of this program.
- Judy Myers, 2 year Club Sprouts Volunteer
Club Sprouts is a free kids membership program at all of our market locations. At Club Sprouts, kids are encouraged to try local, seasonal fruits and vegetables and participate in an activity that focuses on seasonality, locality, science and agriculture. After 5 visits to Club Sprouts, members can graduate and receive a prize. Club Sprouts is open every Wednesday and Saturday at our Lincoln Park location from 8am-12pm, every Saturday at our West Loop location from 8am-12pm and select Thursday at our Gallagher Way location from 4-8pm.