Posted Aug 13, 2020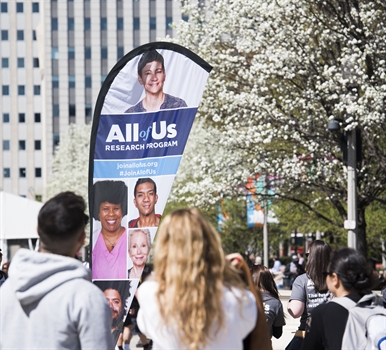 The All of Us Research Program at Northwestern is a historic effort to collect and study data from one million or more people living in the United States. The program is calling on volunteer participants like you to share information about your health, habits, and what it's like where you live. By looking for patterns, researchers will learn how to improve patient care based on people's unique characteristics.
The All of Us Research Program is part of the Precision Medicine Initiative. Precision medicine is an approach to healthcare that is based on you as an individual. It takes into account individual variability in biology, environment and lifestyle for each person. At the moment healthcare is often one-size-fits-all, but imagine a future where your care is tailored to you. All of Us wants to make that future possible by creating a resource that allows researchers to conduct thousands of studies on health and disease.
The program's research focuses on the intersection of three factors with each one being equally important. Lifestyle choices such as diet play a key role in disease prevention and treatment. Research shows that access to fresh and nutritious food, and knowing how to prepare it, is an important part of living a long and healthy life. That is why the All of Us Research Program is proud to be a partner of Green City Market. Going to the farmer's market is also a great way to spend time outdoors and connect with your local community!
In joining the All of Us Research Program, you are signing up to change the future of health. Your participation and your voice matters. Today, it feels like medical research has never been more important. Because All of Us has such a large, diverse group of participants from all around the United States, the program has had a unique opportunity to support COVID-19 research through initiatives like COVID-19 Participant Experience (COPE) surveys & antiarticle testing. As an All of Us Research Program participant, you would be helping in more ways than you know. You would be contributing to research that has the potential to improve the health of everyone.
If you would like to start your journey with the All of Us Research Program, click here. You must create an account, give consent, agree to share your electronic health record, review the Consent to Receive DNA Results, answer health surveys, and have your measurements taken (height, weight, blood pressure, etc.), and give blood and urine samples, if asked. The health information that you share with All of Us will go into a secure database. All participants will receive a $25 gift card after completing their visit. If you have any questions, please feel free to give us a call at (312) 695-6077 or email us at joinallofus@northwestern.edu.
This blog post is sponsored by the All of Us Research Program at Northwestern Medicine. To inquire about sponsorship opportunities with Green City Market, please contact Development Associate, Chelsea Hammersmith, chelsea@greencitymarket.org.