Posted Aug 11, 2022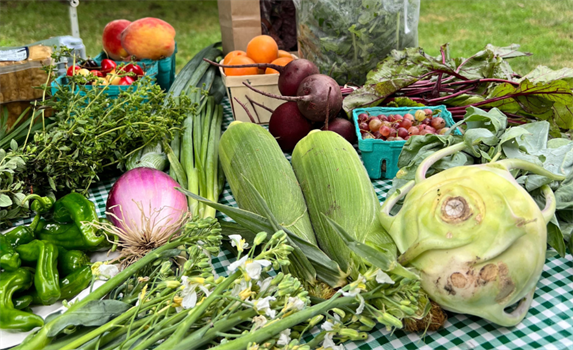 We've said it before and we'll say it again, at Green City Market, we believe access to local sustainable food is a right, not a privilege. In honor of National Farmers' Market Week, Green City Market has been focusing on funding food access. This seemed like a natural fit given the work we have been able to do so far this season.
Last year, Green City Market matched Supplemental Nutrition Assistance Program (SNAP) benefits up to $15 through GCM For All, one pillar of our food access program. This year, thanks to the sponsorship of clean tech company Arcadia, Green City Market was able to increase that SNAP (also referred to as LINK) match to $25. Arcadia's sponsorship means that folks who spend $25 dollars at the market get to take home $50 worth of food at no extra cost to them.
Arcadia is a climate technology company enabling a zero-carbon economy. By unlocking high-fidelity, global energy data for the first time, the Arc platform combines easy-to-use data and APIs under one roof to allow any company to act on its environmental impact and build the next generation of energy products and climate tech solutions.
Arcadia's community solar program allows both renters and homeowners alike to support a cleaner power supply for Illinois without extra costs, installations, credit checks, or changes to their supplier — and lowers their monthly power bills in the process. It all comes down to securing benefits for the most people possible. That's why Arcadia has gladly sponsored our SNAP-matching program this season.
"We're thrilled to be able to help GCM expand its Link match," said Kate Henningsen, Chief Operating Officer at Arcadia. "We believe so strongly in connecting people to healthy, local options, whether that's fresh produce grown nearby or clean energy from area solar farms. Expanding access to both is so important."
In addition to Arcadia's very generous sponsorship, GCM also received a grant from Experimental Station's LinkUp Illinois program which allowed for an additional match of up to $25 to be included in the GCM For All program. This means that when shoppers use $25 dollars of SNAP benefits at the market, they can access $75 dollars worth of food. This difference is reflected in the image below.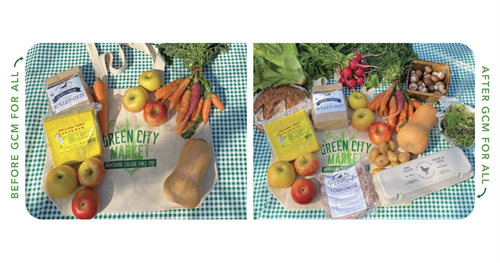 This program is so important to GCM and our mission to make sure that great, locally- and sustainably-sourced food is available and accessible to all, no matter where you live or what you make. 1 in 6 Chicagoans and nearly 1 in 4 families with children in Chicago are currently facing hunger. But SNAP alone is often not nearly enough to help families facing food insecurity make ends meet. The average weekly SNAP allotment for a family of four? Just $11 per person. At a time where grocery prices are on the rise and access to food is more challenging than ever, we are so thankful to be able to provide this program and are grateful for our partners who have made this program expansion possible.
The impact it has made is clear and the growth of the program is truly something to celebrate. On the first Saturday market in August, we had 94 SNAP transactions between our West Loop market and Lincoln Park market. We distributed $5,960 in GCM For All and LinkUp Illinois currency. In one day we distributed more than double what we distributed in the entire month of April when our Lincoln Park market opened for the pre-season.
Our shoppers who use SNAP benefits have felt the impact of this program more than anyone else.
"GCM for All couldn't have come at a better time," shares GCM For All participant, Laura. "I love cooking and eating organically. I love coming to the market on both Wednesday and Saturday when I can, but was limited on what I could purchase due to the expense. With the extra money provided from GCM, I am able to purchase so much more."
While this program was developed to help Chicogans in need access local, sustainable food, this program has also had a positive impact on our local sustainable farmers. By offering this program, GCM is expanding the number of customers that our farmers can reach and generating additional revenue for them. Given that supporting local farmers is another pillar of our mission, we are thrilled about the way this program has helped our farmers as well.
Alex Finn, owner of Finn's Ranch, shared how much they love the SNAP program and the impact it makes on her family business. "The link program is very important for our farm, we love to see old and new customers every week, with the match program customers have access to local, nutritious and sustainable protein." She continued on to share that they are "huge fans of the Link program." Finn's Ranch is the top recipient of SNAP spending at our markets this season.
Without the sponsorship of Arcadia, the impact of this program would not be the same. We are thrilled to be celebrating food access at GCM and Arcadia's role in our fight against food insecurity, both this week and throughout the season.
Interested in helping to fund food access at GCM? Double your impact on neighbors facing hunger when you donate by 11:59 p.m. CT on Saturday, August 13 — an anonymous donor has pledged to match your donations $1-for-$1 up to $20K in honor of National Farmers' Market Week.
Interested in joining Arcadia? New members who join Arcadia at Green City Market will receive $100 toward their power bill as a thank-you.