Posted Jul 28, 2022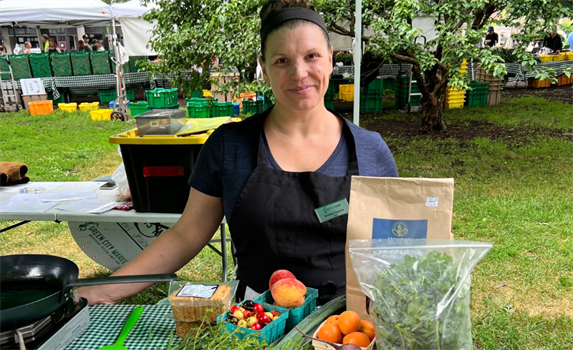 Kristina Navarro, GCM Programs Coordinator, recently lead a culinary demo where she shared her recipe for Taco Spiced Crumbled Tofu and Corn Salsa with Blistered Shishito Peppers. Take a look at the recipes below. If you give them a try, be sure to tag @greencitymarket on Instagram.
---
Taco spiced crumbled tofu
ingredients
1 tablespoon oil
1 Tropea onion, diced
Block Phoenix Bean fried tofu
1 tablespoon taco seasoning
Handful of fresh oregano, chopped
Taco Seasoning (yield: about 1/4 cup)
1 tablespoon chili powder
1 teaspoon ground cumin
1 teaspoon garlic powder
1 teaspoon smoked
1 teaspoon onion powder
1/2 teaspoon fine sea salt
instructions
Heat a pan over medium heat. Add a tablespoon of oil and sauté the onion.
Using your hands, crumble the tofu into small, bite-sized pieces. Add to the pan and cook until warmed through.
Add the taco seasoning and stir to combine. Add a splash of water to help mix the seasoning combine the ingredients.
To Serve: Scoop some tofu into a bowl. Top with corn salsa. Eat with Molino blue corn heirloom tortilla chips!
---
Corn Salsa with blistered shishitos
ingredients
1 pint Shishito peppers, blistered and diced
1 tablespoon of oil
2 cups fresh corn (from 4 ears), removed from the cob
2-3 garlic scapes, sliced
2 scallions, thinly sliced
2 tablespoons fresh chives, chopped
Juice of 1 lime
Salt and pepper, to taste
instructions
Blister the shishitos: Heat a pan over high heat until very hot. Add shishitos and cook until tender with charred spots. Remove from pan and cool before dicing.
Prepare the corn: Remove corn from the cob. In a pan, heat the oil and sauté the corn and garlic scapes until soft, about 5 minutes.
Prepare the salsa: In a bowl, combine the shishito peppers, scallions, chives, an lime juice. Add the corn and garlic scapes. Mix well and add salt and pepper to taste.