Posted Nov 12, 2020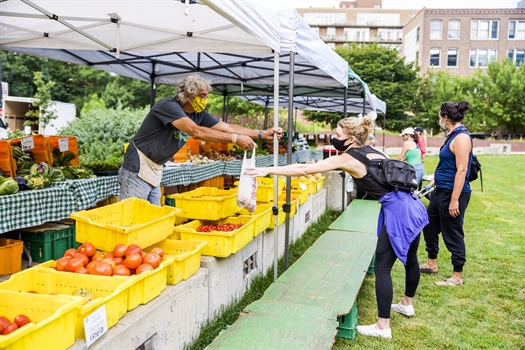 "When you're in the city, you may not have access to a garden of your own, so you want the next best, or even the very best thing, and go to someone who's personally involved in growing the product. That's really been our juice," remarks Lloyd Nichols of Nichols Farm and Orchard in Marengo, Illinois. "We feel good about selling food to people, and they know that we grew it ourselves."
Our local farmers are facing a situation unlike any other this year. If you care about where your food comes from, how it is grown, and who has access to this food, please make a tax-deductible gift to support Green City Market and grow our GCM Delivered program right now.
Lloyd has been gardening since he was a boy in the '50s, started selling produce at farmers markets in the '70s, and been a vendor at Green City Market since its inception in 1999, when Abby Mandel, GCM's founder, recruited him. "We started out in the little alleyway next to the Chicago Theater," Lloyd recalls. They hadn't missed a market in over two decades.
And then the pandemic hit. "Coronavirus immediately devastated a large percentage of our business," Nichols shares.
Like many of GCM's farmers, selling at farmers markets and to restaurants are Nichols' main revenue streams — their "real key to being in business." Despite being an essential business, Green City Market was forced to shutter its in-person operations for nearly three months. As a result, the pandemic essentially foreclosed upon the livelihoods of 57 of our local, sustainable farmers and food producers.
Small farmers like Nichols were left behind in Congress' Covid-19 relief package. The top ten percent of farms — mainly large, industrial farms — were granted more than 60% of available funds from the Coronavirus Food Assistance Program, while the bottom ten percent — small, sustainable, family-run farms — were granted just 0.26% of the pot.
So, Green City Market got to work. Propelled by the support of folks like you, the Green City Market team rapidly developed and launched GCM Delivered, an innovative online ordering and home delivery platform, designed to keep our farmers connected to shoppers and to provide a safe option for Chicagoans to access the food they need.
GCM Delivered made it possible, for the first time, for people to order from dozens of our Midwest producers from Illinois, Indiana, Wisconsin, and Michigan and get their groceries delivered to their homes in a single, simple, safe transaction.
Just seven days after Governor Pritzker announced the shelter-in-place order and less than two weeks after our first cancelled market — thanks to your support — we launched GCM Delivered. And you made it possible, for the first time, for our farmers to be able to stay in business through online sales, even as restaurants and farmers markets stayed closed, seemingly indefinitely.
"The fact that Green City Market made it possible for us to turn around and sell directly to the public online," Nichols remarks, "that made it possible for us to change our direction and the model of how we're doing business."
Against all odds, our farmers may be coming out of this year more resilient than they were before because of local food lovers like you. However, as the pandemic persists, we know that we're not out of the woods yet.
Sustainable farms like Nichols still need your support — and recent studies show that regenerative agriculture might just be the key to halting, or even reversing climate change. "This planet can be unbelievably sustainable if people grow the way we do," explains Nichols.
Whereas large industrial farms tend to pack in as many rows of crops as possible to maximize output, Nichols focuses on stewarding their land, regenerating soil, fostering biodiversity, and mitigating carbon emissions. "We have an awful lot of acreage that's spent on green elements; we plant trees for carbon sequestration and grow diverse crops, tubers, and tree crops — things that produce tremendous yield for acres and at the same time collect lots of the carbon that our industrial world has put out," Nichols notes.
By chipping in today, you can help ensure the Midwest's small, sustainable farmers don't become a thing of the past. With your tax-deductible contribution, you can help us grow GCM Delivered. As the end of our outdoor season for our farmers markets rapidly approaches, you can help us reach more households with GCM Delivered and safely get food to people who need it as the months get colder and the virus carries on.
It's your generosity — your action — that will be the difference for our farmers and for everyone that relies on them for nourishment this winter. You will determine the future of local, sustainable food in Chicago. Please, give online, and thank you so much for your generous support during this critical time.