Posted Sep 17, 2019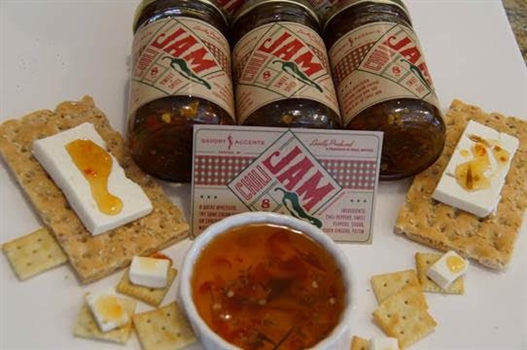 Savory Accents Puts the Spice in Green City Market
Did you know you can try chili peppers from around the world at Green City Market? It is one of the ways Savory Accents owners Ted and Joan Ballweg connect with the people and cultures of the world. When you visit them at market, you can taste chilis like Bulgaria's carrot pepper, or Ghana's makoo kokoo pepper, or even Trinidad's scorpion.
Those peppers as well as more than 25 other varieties of chilis thrive on the Ballweg farm in the glacial drumlin of Verona, Wisconsin.
Their organic chili pepper gardens are situated on five acres alongside the popular bike route on Range Trail.
The Ballwegs tell us their chili peppers thrive in the rich, silty clay loam soil on sunny south-facing slopes. The varieties they grow create a multitude of intense colors and shapes in their chili gardens. The wide array of diverse peppers also provides a range of flavors and spicy heat levels to accommodate the desires of many palates.
The chili peppers are further enhanced in at their onsite processing kitchen where they create innovative products including a 7 Blend Chili Pepper Seasoning, Habanero Powder, Chili Oil, Pepperolio, Chili Vinaigrette, Hot Sauce, Spicy BBQ Rub, Harissa Paste and more!
The Ballwegs say gardening brings them closer to nature.
"Growing our own food provides us the freshest and tastiest ingredients. We enjoy talking with and sharing stories with our customers," said Joan Ballweg, owner of Savory Accents. For more from Savory Accents check out our blog, but better still come to market and visit them. Try some of the chili jam, we love it with some cream cheese on crackers! Perfect appetizer for Game Day!"
What should first-time know about shopping with you?
"If you are unsure about our products' heat and taste, come try them for yourselves. We always have samples available each week at the Green City Market. Chili Jam is always a crowd pleaser. Our 7 Chili Blend Hot Pepper Seasoning is also one that can be used on just about everything from your eggs, pizza and even sprinkled in your popcorn."
What do you want people to know about Savory Accents?
"From the chili varieties we grow to how we grow and preserve them, all contribute to a wonderful expression of flavors we have in our products. Ask us about our organic growing, proper soil management, weeding, mulching, and feeding, as well as our methods for dehydrating, fermenting, roasting, canning, and pickling."
What are the can't-miss items at your booth?
"We have a great variety of seasonings, hot sauces, jams oils, rubs, vinegars and even bread and brownie mixes!"
What is your favorite item at your booth?
"We love the chili jam and this tends to be the most popular product. Our Chili Jam makes a tasty and super easy appetizer, spread some cream cheese on crackers and top with a bit of Chili Jam!"
Stop by Savory Accents on Saturdays in Lincoln Park.