Posted Nov 18, 2010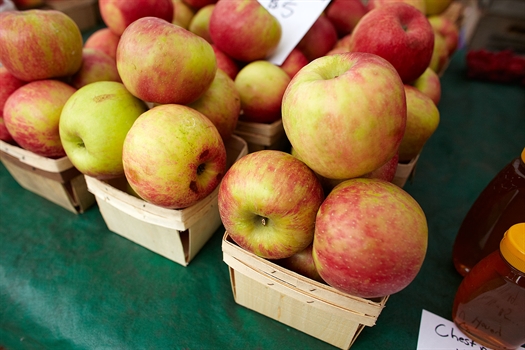 By Rick Bayless, Green City Market Board Member Emeritus
Ingredients
1 ounce dried porcini mushroom

5 tablespoons olive oil, divided use

1 very large (12 ounces) white onion, chopped

4 cloves garlic, finely diced

12 ounces shiitake mushrooms, stems discarded, thinly sliced

12 ounces oyster mushrooms, trimmed and thinly sliced

6 cups chicken broth

2 cups hard cider

1 large (8 ounce) Yukon Gold potato, peeled and cut into ¼-inch pieces

1 teaspoon finely chopped fresh thyme

1 fresh bay leaf

1 tablespoon Worcestershire sauce

1 ½ tablespoons pure ancho chile powder

Salt

To garnish: 1 1/2 pounds (firm, slightly tart) apples, peeled, cored and cut into a small dice, About ½ cup Mexican crema or sour cream
Directions
Scoop the dried porcini mushrooms into a heat resistant bowl. Pour in 3 ½ cups very hot water to rehydrate. Once the mushrooms are soft, usually about 20 minutes, strain the liquid into a separate bowl, and finely chop the mushrooms.

Heat 1 tablespoon of the olive oil in a very large (12-inch) nonstick skillet over medium high heat. Once hot, scoop in the onions and cook until golden brown, about 8 minutes. Stir in the garlic and cook an additional minute until aromatic. Scrape the mixture into a 6 quart dutch oven or soup pot.
Return the skillet to heat and add 1 ½ tablespoons of the olive oil. Mix the shiitake and oyster mushrooms together. Once the oil is hot, add half the mushrooms and sauté until the mushrooms begins to brown, about 6 minutes. Scrape into the soup pot. Add another 1 ½ tablespoons of the olive oil and sauté the second batch of mushrooms. Reserve 1 cup of the sautéed mushrooms and add the rest to the soup pot.
Meanwhile, you can start adding the rest of the ingredients into the soup pot, beginning with the chicken broth. Next, add the hard cider, along with the strained porcini mushroom liquid, and ½ of the chopped porcinis. (Reserve the remaining porcini mushrooms, they'll be added into the soup at the end.)
Finally, add the diced potatoes, thyme, bay leaf, Worcestershire sauce, and the ancho powder. Stir to combine, then bring to a simmer over medium high heat. Lower the heat and continue simmering for 30 minutes. Season with salt, usually about 2 teaspoons, depending on the saltiness of your broth.
While the soup is simmering, add the final tablespoon of the olive oil to the skillet set over high heat. Once the oil is hot, scoop in the diced apples. Sautée about 3 minutes until the apple pieces have started to soften. Scrape the apples into a serving bowl and set aside for garnishing the soup.
Discard the bay leaf. Working in small batches, purée the soup in a heavy duty blender until smooth. Return the pureed soup to the pot and stir in the reserved porcini, shiitake, and oyster mushrooms. Bring the soup back up to temperature. You're now ready to serve! Ladle the soup into warm bowls, garnish with a dollop of crema and the sautéed apples.