Posted Nov 17, 2009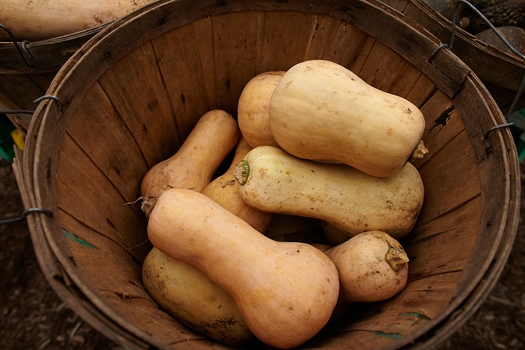 By Rick Bayless, Green City Market Board Member Emeritus
Makes 15 to 20 servings, about 3 1/2 quarts.
Ingredients
1/4 cup olive oil

3 teaspoons ground cinnamon (preferably Mexican cinnamon), divided use

1/2 teaspoon ground cumin

Salt

5 pounds

Iron Creek Organic Farm butternut squash

, split in half lengthwise, seeds removed and discarded

2 large

Genesis Growers carrots

, diced

10 ounces

Nichols Farm & Orchard white Cipolline onions

, quartered

2 firm, cooking apples, like

Seedling Farms Mitsu

, peeled, cored and quartered

2 1/2 quarts chicken broth (we like the Imagine Brand)

3 to 4 canned chipotle chiles en adobo, seeds scraped out, roughly chopped

6 tablespoons unsalted butter, cubed

1/2 teaspoon chipotle powder

1 tablespoon sugar

About 10 ounces firm-textured day-old bread, crusts removed, cut into 1-inch cubes (7 cups)
Directions
Preheat oven to 425 degrees.

In a large bowl, mix the olive oil,

1 teaspoon cinnamon,

cumin, and 3/4 teaspoon salt. Brush part of the mixture over the cut edges of the squash. Place cut side down onto a rimmed baking sheet lined with foil.

Scoop the carrots, onions and apples into the bowl and toss to coat. Spread onto a separate foil-lined rimmed baking sheet.

Slide both sheets into the oven and roast for about 40 to 50 minutes or until the onion mixture is golden brown and the squash is soft. Halfway through the cooking time, stir the onion mixture. Remove from the oven and reduce the temperature to 350 degrees.

Scoop the onion mixture into a large (6-quart) soup pot. Using a large spoon, scrape out the squash flesh and add it to the pot along with the chipotles, 1 teaspoon salt and

1 teaspoon cinnamon

. Pour in the chicken broth and stir to combine. Cook over medium heat for 30 minutes.

Meanwhile, in a large microwave safe bowl, add the butter, chipotle powder,

remaining 1 teaspoon cinnamon

, 1/2 teaspoon salt, and the sugar. Microwave on high for 1 minute until the butter has melted, stir. Scoop in the cubed bread and toss to coat. Spread onto a foil-lined rimmed baking sheet and bake for 10 to 12 minutes until the croutons are golden brown and crisp. Set aside.

After 30 minutes, transfer the soup, in batches, into a blender and puree until smooth. Return to the pot and bring back to a simmer. Taste and adjust the seasoning with salt, usually 1 teaspoon. Ladle into soup bowls and garnish with seasoned croutons.