Posted May 31, 2013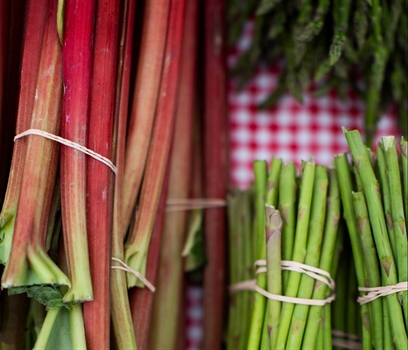 By Rick Bayless, Green City Market Board Member Emeritus
Choose rhubarb with a lot of red on the stem to make a purée that's beautifully rosy. It's velvetiness gives the drink a very satisfying texture.
Though in many cases, I consider the salted rim of a margarita glass to contain an essential ingredient for balancing the sweet tanginess of the drink or bringing out the flavor of the tequila, certain combinations of flavors just don't need it. That's the case with this surprisingly delicious spring drink. However, you may want to crust the rim with the sweet-tanginess of jamaica sugar.
Ingredients
1½ ounces 100% blue agave blanco tequila

½ ounce fresh lime juice

½ ounce Torres Orange or other brandy-based orange liqueur

1 ounce Rhubarb Puree

½ ounce crème de cassis (black currant liqueur)

6 to 10 small ice cubes
Directions
In a cocktail shaker, combine the tequila, lime juice, orange liqueur, rhubarb purée, crème de cassis and ice. Cover and shake vigorously until frothy and cold; tiny ice crystals will appear in the drink after about 15 seconds of shaking. Strain into a 6-ounce martini glass and serve immediately.