Posted Apr 05, 2022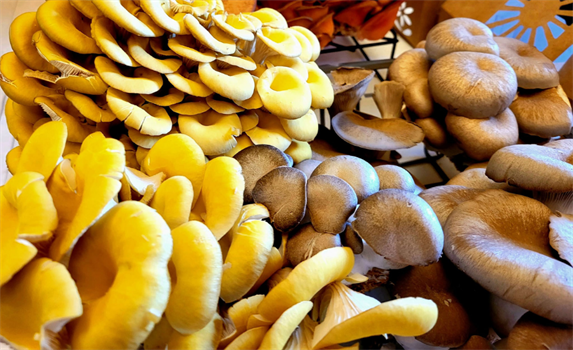 Up next in our series of new vendor spotlights is Primordia Foods, a local company specializing in mushrooms and microgreens. Primordia Foods is owned by Thomas Olson and has been operating since 2019.
Primordia Foods will be bringing a variety of products to their stall at Green City Market. Thomas shared that they will be offering various types of gourmet mushrooms including lion's mane, oysters, shiitakes, and chicken of the woods. He also told Green City Market that "Our biggest product to date has been our microgreens which we sell many different varieties of including daikon radish, various salad mixes, wasabi, speckled peas, corn shoots, broccoli, basil, and many others."
We are so excited to have Primordia Foods joining us this season not just because of their wonderful products that they bring, but also because of their mission as a company. Thomas shared that "Primordia Foods is a company that is dedicated to growing fresh food and day of harvest delivery to farmer's markets, consumers, restaurants, and grocers." He also shared that "As a company we strive to educate people more about unique and fun ways to integrate healthy eating habits into their diet."
Much of the work being done at Primordia Foods is dedicated to ensuring that their customers have access to fresh and nutritious food that is beneficial to their health. Thomas explained that at Primordia Foods, they "hope to give everyone fresh access to these products for their deliciousness and amazing health benefits."
"The mission of Primordia is to magnify the heart and passion that goes into the creation of advantageous food that are beneficial to the evolution of the creator and the observer."
When asked about the history of Primordia Foods, Thomas shared a bit of background on the company and how it came to be. "A primordia by definition is an organ or tissue in its earliest, recognizable stage of development. We are observing a renaissance in agriculture, art, music, and culture. This change in everything that allows a community to be authentic, is where Primordia Foods starts." He continued on to explain that "Primordia Foods is a company that was started when researching the health benefits on the immune system as well as the neurological benefits that mushrooms provide."
The team at Primordia Foods is a close-knit group. Thomas explained that at Primordia Foods "We consist of three best friends that enjoy the science and constantly evolving world of mycology. As a group, we look forward to utilizing our skillset and continuing to learn and grow with our community. We are doing whatever we can to introduce new recipes and ideas when it comes to cooking with mushrooms and medicinally."
We are excited to welcome them into the Green City Market community and to learn more about all of their wonderful products throughout the season. Make sure to stop by our Lincoln Park market this Saturday, April 9, to meet the team at Primordia Foods and help them celebrate their first day with Green City Market.