Posted Sep 21, 2021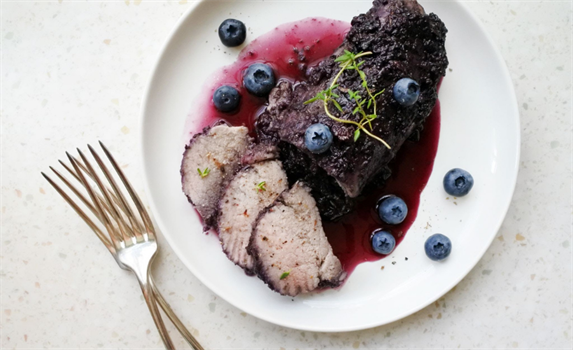 Pork tenderloins are a quick-cooking main course. This recipe pairs pork with a blueberry balsamic glaze. It's a different way to add fruit to your dinner and the tangy, sweet-savory sauce brings a unique twist to a classic meat.
Yield: 3-4 servings
Ingredients:
Glaze
2 cups fresh or frozen blueberries from Joe's Blues

½ cup balsamic vinegar

1 tablespoon maple syrup from Chicago Maple

1 ½ tablespoons whole-grain mustard

Pinch of salt

Pinch of pepper
Pork
Directions
Make the Glaze
Combine 1 cup of blueberries with the vinegar in a small saucepan. Bring to a quick boil over medium-high heat. Remove from heat to mash the blueberries with a potato masher or large spoon. Then add the remaining 1 cup of blueberries.

Reduce the heat to low and cook, stirring occasionally, until it thickens and decreases in volume.

Stir in the maple syrup, mustard, salt, and pepper.

Keep warm by covering with a lid.
Cook the Pork Tenderloin on the Stovetop
Slice the pork into 1-inch thick medallions. Season with salt and pepper.

Heat a large skillet over medium-high heat. Add the oil after the pan heats up. Add the pork in a single layer and sear, about 3 minutes each side.

Pour ½ cup of the glaze into the skillet and turn the medallions over until each side is coated.

Remove from the heat. Serve warm with extra glaze as needed.
Or,
Cook the Pork Tenderloins on a
Pellet Grill!
Preheat the pellet grill to 400°F. Line a baking sheet with foil.

Season the tenderloin with salt and pepper.

Cook for 20 - 30 minutes, or until the temperature of the thickest part of the meat hits 145°F, the safe temperature for serving pork.

Place the meat on a carving board to rest for 5 minutes.

Slice the tenderloin into 1-inch thick slices and coat with half of the warmed glaze.

Serve warm with extra glaze as needed.
Pro Tips:
If you use frozen blueberries, plan for a little extra time making your sauce on the stove.

Use a meat thermometer to ensure your pork is cooked evenly and to the right temperature.
This post is sponsored by Angry BBQ. Learn more about sponsorship opportunities with Green City Market, and email giving@greencitymarket.org to get in touch with our team.