Posted Aug 05, 2022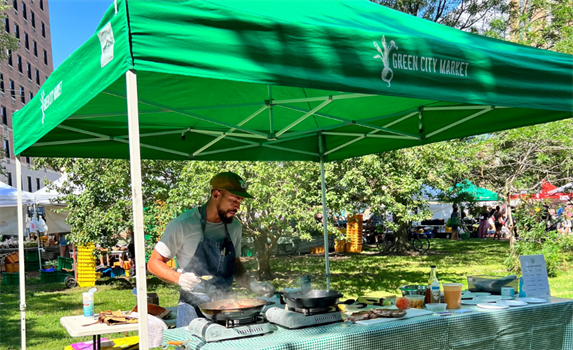 Last week, Dustin Hogue joined GCM at our Lincoln Park market to demo his recipe for Pean Seared Pork Chop. Find the full recipe below.
Pork chop
Ingredients
1 1 1/2 in bone in pork chop
1 tbs kosher salt
1/2 tbs black pepper
Canola or vegetable oil
2 tbs butter
2 garlic cloves
2 thyme sprigs
Instructions
Season generously with salt and pepper, then allow to come to room temperature. Heat a heavy bottom skillet over high heat, add 2 T of high temp oil. Sear on both sides until we'll caramelized, about 3 minutes. Add a knob of butter, two garlic cloves, and 2 thyme sprigs. Baste with butter until internal temp reaches 145. Reserve some of the pan drippings.
---
Vinaigrette
Ingredients
1 ripe peach
1 heirloom tomato
3 tbs White wine vinegar
1 tbs honey
1 tbs minced shallot
1/4 cup evoo
Instructions
Place peaches, tomato, vinegar, honey, and shallot in blender. Blend on high until fully incorporated. Slowly stream in olive oil until vinaigrette is thick enough to coat the back of a spoon.
---
Relish
Ingredients
1 ear of corn
1 ripe peach
1 small shallot
Pan dripping
Salt and pepper to taste
Instructions
Turn a stove top burner to high. Char the corn over the open flames and then cut kernels off of the cob. Cut peaches into a dice about the sizzle of corn kernels. Cut shallot into a small dice. Combine corn, peaches, and shallot, along with a tablespoon of the pan dripping. Season with a squeeze of lemon, salt, and pepper.
---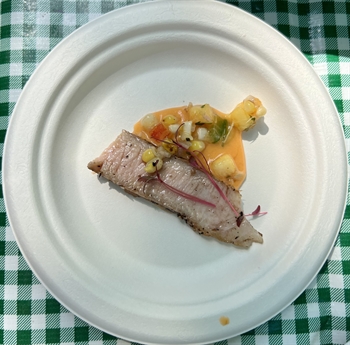 Be sure to stop by Green City Market to pick up your ingredients and tag us on Instagram if you give it a go!