Posted May 22, 2020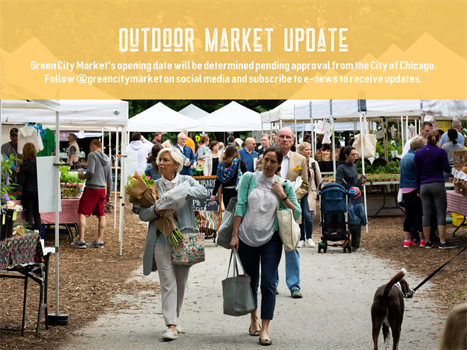 All of us here at Green City Market — our staff, volunteers, and vendors — miss seeing you at the market. With June right around the corner, we are as anxious as all of you to safely return to Lincoln Park and the West Loop to begin our outdoor market season.

We have been instructed by city officials to share that Green City Market's opening date will be determined pending approval from the City of Chicago.

Under the guidance of the Chicago Department of Public Health (CDPH) and to ensure Chicago continues to flatten the COVID-19 curve and slow the rate of increase in total cases in the city, we have been told that all city and farmer markets openings will be postponed until at least May 30.

Green City Market and its partners in The Chicago Farmers Market Collective are working to both compile resources for people to support our local vendors through pick up locations, home delivery, or Community Shared Agriculture (CSA) options, as well as to communicate plans to safely reopen our markets with city officials.

Of course, the health and safety of our shoppers, vendors, volunteers, and staff members remain our highest priority at Green City Market. When the city allows us to open, operations and procedures at farmers markets across the city of Chicago will vary. We expect scheduled pick up appointments, required social distancing and use of PPE and hand sanitizing products and/or hand wash sinks separate shopping hours for elderly and/or vulnerable customers to be in place.

As soon as we have more information regarding a firm opening date from the city, we will share it with each of you, our dedicated community of local food lovers.