Posted May 20, 2019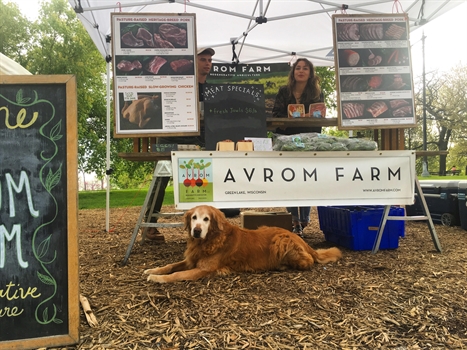 Although I grew up in Chicago, I have been drawn to my grandfather's property and the lifestyle and business of farming since a pretty young age. I started sticking seeds in the ground on my grandfather's land in Green Lake, Wisconsin when I was about 12 years old. Since that first growing season my parents helped me expand the gardens and bring produce to the local Green Lake Farmers Market in their Prius. That continued for several years until I bought a truck and went to college in North Carolina for sustainable agriculture. After my freshman year in school I hired two of my friends to come up to the farm and we raised a handful of pigs, several hundred broiler chickens, and about 2 acres of vegetables during summer break. We took the pigs to a local butcher, but processed all of the chickens ourselves. All the animals had to find their way to the freezer by the time school started again and I remember us butchering chickens for about 14 hours straight the day before we had to drive back to school. Fortunately my very supportive parents were able to continue marketing the birds after we left for school.
After I graduated Warren Wilson College in 2017 I got an FSA loan to jump-start the farm and invest in a better truck and many other critical pieces of equipment. My girlfriend Olivia Delaune and I bought an old trailer and hauled 25 Berkshire piglets from the college farm, a guard dog pup, starter flock of laying hens, and an ATV I traded for my old pickup truck up to my grandfather's land and started Avrom Farm. We grow 5 acres of mixed vegetables and manage about 30 acres of pasture for our pigs and chickens.
We are in the process of becoming Certified Organic through MOSA. It is a rigorous application process that should get wrapped up by June, so we can start showing off our "USDA Organic" stickers! I have wanted to get Certified Organic for several years, but didn't pull the trigger until now because of certification cost, but mostly fear of extra paperwork and record keeping. I thought the extra paperwork would be an unnecessary burden, but I am now realizing that it will probably make us better farmers because we'll be forced to keep more records that will better inform our decisions in the field and keep us more organized.
I want people to know what motivates me to be a farmer and what Avrom Farm's overarching goal is, at least for now. As you probably know, the overwhelming majority of the food that is consumed in the U.S is produced by industrialized farms that are resource extractive, contribute negatively to climate change on a massive scale, and result in food that is less nutritious than it should be if not life threatening to eat. My decision making process on Avrom Farm is informed by my goal to produce an impactful amount of nutrient dense food in a way that regenerates the environment, provides equitable and rewarding work to employees, and treats livestock humanely. My goal right now is to find an economy of scale that fits within the carrying capacity of the land to produce high quality food more efficiently that will reach more people of a broader demographic.
What makes me excited to be a farmer is that there are almost endless possibilities of ways to farm and what to farm. For me farming is more of a lifestyle than a job. For better or worse it is engrained into everyday routine and is always on my mind, wether it's watering seedlings first thing in the morning, catching loose pigs, thinking about pigs being loose, etc.
I am excited about a lot of things this season. We're trying some new varieties of Italian and French heirloom tomatoes, neon purple cauliflower, radicchio, and a wide assortment of salad and braising greens.