Posted Mar 21, 2022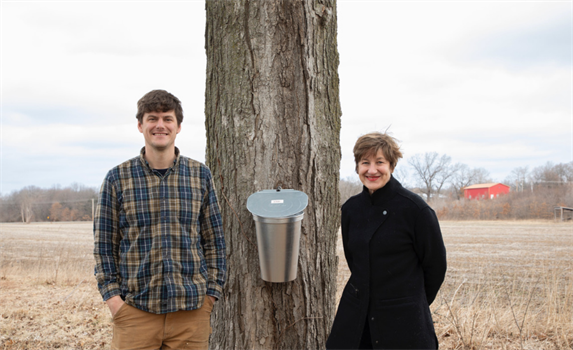 With market season just around the corner, Green City Market is excited to introduce one of our new vendors, Flatwater Farms. They are a USDA Certified Organic farm specializing in fruits, vegetables, herbs, and flowers.
Flatwater Farms, which is based in Buchanan, Michigan, is owned by Fran Tuite, a former longtime Chicago resident who was raised by two botanists. Fran's father passed down his passion for the environment which has remained with her to this day.
Fran landed in Buchanan, Michigan after falling in love with rowing while attending Purdue. According to Flatwater Farms representative, Jeani Meola, "Fran was in search of a rural respite and a place to row. Buchanan was recommended due to the St Joe River's flat waters."
With her love for the environment and her new home in Buchanan, Fran founded Flatwater Farms in January of 2014.
Meola explained that "The vision for the farm was to move from conventional farming and mono-row cropping to a variety of plants and trees that would nourish the soil, wildlife and insects." Their goal was not only to shift away from conventional farming, but also to create a sustainable operation that would support their community.
"The ultimate vision is to create a sustainable farm and business that would support the community by supplying food, employment and education, in addition to supporting the environment through healthy soils, and wildlife habitat."
When asked why Flatwater Farms is a good fit for Green City Market, they explained that "Flatwater Farm's mission to create a sustainable farm while offering nutritious food for the community and stable jobs for employees is much aligned with Green City Market's mission." They continued on to explain that "The face to face interaction at a well attended farmer's market is vital to our ability to grow and thrive as a business."
In addition to their farming operation, Flatwater Farms has an on-site brewery called River St. Joe brewery. River St. Joe, which opened to the public in April 2020, was inspired by the on-site dining experiences that exist on vineyards in Napa Valley. The brewery serves food and drinks grown by Flatwater Farms and other local businesses.
It is through this on-site brewery that Flatwater Farms is able to continue to connect with and support the community around them. Not only are they able to provide additional job opportunities, but they have also developed their educational programs through regular tours. Beyond that, they have created a place where the community can gather and connect.
Flatwater Farms is looking forward to meeting new people at Green City Market throughout the season. They are hoping to welcome new people into their community in Buchanan by hosting them for tours at River St. Joe brewery.
Make sure to stop by our markets this season to meet the team from Flatwater Farms and try out some of their special products. They will be joining us at the Lincoln Park location on Saturdays throughout the season.