Posted Aug 03, 2018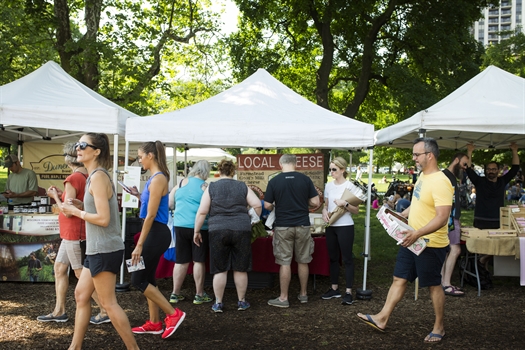 Farmers markets, like Green City Market, are more than marketplaces. They are platforms for local farmers to showcase their seasonal bounty and a communal space to interact with community members supporting a sustainable food movement. According to the USDA, farmers markets support a multitude of vital community systems. In 2016,
$20.2 million in SNAP benefits were spent at farmers markets
, which provided fresh food access to low-income Americans and increased revenue for local farmers. On average,
people who shop farmers have 15-20 social interactions per visit
, as opposed to 1-2 interactions at the grocery store.
Growers selling locally create 13 full times jobs per $1 million in revenue
compared to 3 full time jobs by those selling non-locally. In fact,
local growers see 3x their return on investment
compared to chain competitors. It is imperative that we support local growers at our markets to preserve farmland and rural livelihoods, as
25% of U.S. vendors derive their sole source of income from markets
. For more information about these statistics,
click here
.
Thank you for supporting Green City Market as a resource for sustainable food in Chicago. We invite you to participate in the following events to celebrate our farmers and markets for National Farmers Market Week from August 5-11, 2018:
Savor the Seasons: Try the best of the peak tomato season! Visit GCM Lincoln Park and GCM West Loop on Saturday August 11th from 9am-1pm to try a variety of tomatoes from our sustainable farmers and vote on your favorite one!
Donation Station: Donate $5 or more to support our markets, education and access programs for an elote from Cruz Blanca Brewery and Taqueria. This delicious Mexican street corn will be available at GCM Lincoln Park on Saturday, August 11th from 10am-1pm.
Market Shopper Survey: We want to hear from you! Stop by the Info Booth at #GCMLincolnPark and #GCMWestLoop on Saturday, August 11th for a short 1 minute survey.
Link Matching: We are increasing our matching program up to $20 from August 5-11, 2018 only at #GCMLincolnPark and #GCMWestLoop!
Blind Taste Test: Can you guess summer fruits and vegetables blind-folded? Test your tastebuds on Wednesday, August 8th from 8am-12pm at the #GCMLincolnPark Club Sprouts tent.
Chef Demos: As part of our regularly scheduled programming, we will have Chicago chefs demonstrating how to use GCM produce to create market-inspired dishes at 10:30am at our markets this week.