Posted Feb 21, 2019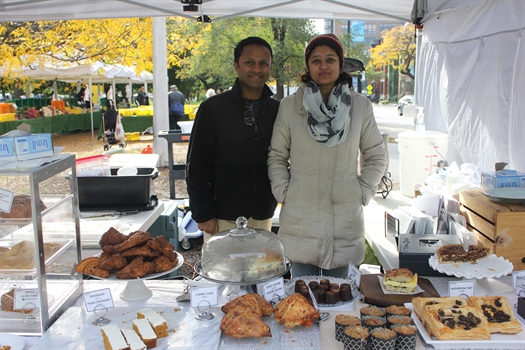 A Saturday morning visit to Green City Market isn't complete without a stop for freshly made breakfast pastries. Bakeries like Verzenay Patisserie take our farmers' bounty and incorporate it into seasonal tarts, quiche, muffins, and scones. Verzenay's mushroom tart and egg sandwich are standouts, and the raspberry croissants are not to be missed during the summertime! A little-known fact about the Green City Market is that Verzenay and each of our prepared food vendors is required to source ingredients for their recipes right from our farmers. This commitment helps build community at the market and directly strengthens the local food economy.
Verzenay Patisserie joined the market in 2014, shortly after Arshiya Farheen returned from pastry school in Paris. Arshiya and her husband and business partner, Aqeel, first visited Green City Market as shoppers before deciding to open an artisanal, French-style bakery of their own. Over the past 5 years, the market has helped open doors for their small business. "For us, becoming part of the market community was effortless," notes Arshiya. "During our first year, the support I received from all of the other vendors — simple stuff like setting up and tearing down or how best to display your items was so helpful. We've learned quite a bit from other vendors. The market has such a close knit, family feel to it." At Green City Market, Verzenay has established a loyal shopper base and substantially grown their wholesale business. You can now find Arshiya's pastries at hotels and coffee shops around Chicago, as well as Whole Foods and Plum Market.
Arshiya was trained in the French pastry tradition (think nuts and chocolate galore), but being part of the market community has impacted her baking philosophy. It's also echoed the food values that both she and Aqeel, as immigrants to the United States from India, grew up with — the understanding that what you eat impacts your community and the natural world. As a market vendor, Arshiya has changed the way she develops recipes, letting the seasons be her guide and incorporating more seasonal fruits and vegetables from farms like Mick Klug Farm, Ellis Family Farm, Froggy Meadow, Nichols, Wholesome Harvest, and Smit's. The market has allowed her to become a more creative baker, making the most of ingredients at their peak flavor. It's also simplified things — top-quality ingredients naturally lead to a better baked good. There's no need for added sugar or unnecessary ingredients. Arshiya and Aqeel enjoy the nuance and more complex flavors that sourcing locally has added to their pastry - noting that "if everyone buys from Sysco, everything tastes the same."
Verzenay is looking to expand to a brick-and-mortar location by the end of this year. Businesses is growing, and they need additional space to accommodate the growing demand for their products. With an expansion to their own storefront, Verzenay will join previous market vendors like Floriole Bakery and Honey Butter Fried Chicken as restaurants and cafes that got their start selling at Green City Market. Until then, you can find Arshiya, Aqeel and their stellar pastry lineup at Green City Market's Indoor Market through April and our Lincoln Park location starting in May.