Posted Apr 25, 2022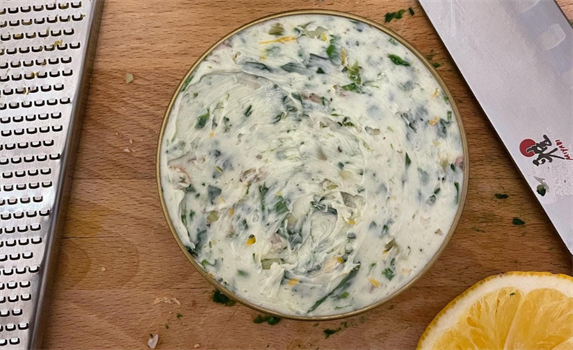 By Allie Salazar, GCM Operations Coordinator
We're making our way into ramp season, and I don't think this market could be more excited about it.
I first learned about ramps about a year ago, when I was working my first job as a baker. I was chatting with one of the line cooks who showed me her lacto-fermented ramp jam for a new sandwich at the café. Honestly, I had no idea at the time what any of those words meant (except jam), but it was really good and I got really excited.
I got to learn that ramps are part of the allium family, so they're related to onion, garlic, shallot, leek, and chive, and they have a really delightful flavor that's distinct from, yet similar to, their relatives. Eater gives a good overview of the veg here.
Ramps are incredibly seasonal and typically foraged, so they're a hot commodity once those green shoots emerge from the ground - and that's why we're so excited that they're back!
Ramps from our farmers are harvested sustainably by not over-harvesting the ramps on their private land, so their root systems can regenerate for years to come. This precaution taken by all Green City Market farmers growing ramps means that there is a relatively limited supply of ramps available at Green City Market each year.
I got myself a small bundle and decided to make some ramp butter, seen in the photo above. I used an online recipe from Nerds with Knives, and included:
Ramps (blanched, to mellow the flavor, and minced)

Lemon zest and a squeeze of lemon juice

Salt and black pepper

Butter
My measurements weren't precise, but here's how I made it:
Trim and clean your

ramps

(these babies came straight from the dirt), for my butter I used 4 small stalks.

Once they're cleaned, set a pot of water on the stove and bring to a boil

Blanch your ramps: drop them into the hot water for about 30 seconds, pull them out and run them under some cold water to stop cooking.

Dry

thoroughly

and mince the ramps (whites, greens, and all)

In a bowl, add

one stick of softened, unsalted butter

(I just pulled it from the fridge the night before), along with

kosher salt

,

black pepper

, the

zest of half a lemon

, a

squeeze of juice

from that same lemon, and your minced

ramps

.

This is all to taste, so add a little bit of everything, mix it all together with a spatula, and take a taste! If you think more lemon would be nice, add more lemon; if it's not

nearly

salty enough, add more salt! If you overdo it a little bit, you can always add more butter to mellow out those flavors.
This recipe genuinely took 10 minutes and let me make the best iteration of garlic toast I've ever had. I also tossed some in my pasta, along with some spinach from Tomato Mountain and chevre from J2K, and it was delightful.
If you try the recipe, be sure to tag @greencitymarket on Instagram with your pictures and if you want to hear more about what I am up to this season, make sure to subscribe to our volunteer newsletter.