Posted Dec 20, 2021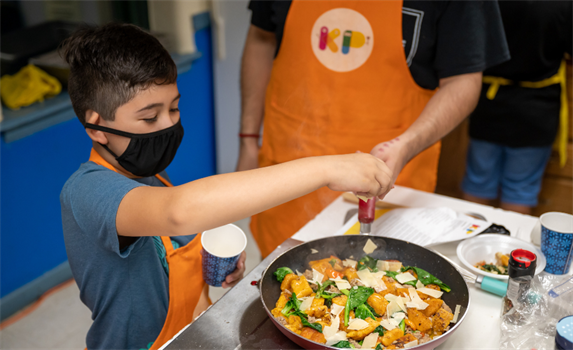 At Green City Market, we're passionate about helping Chicagoans of all ages understand that what they eat, cook, and throw away impacts the future of our city and our planet.
That's why we teamed up with Kitchen Possible and Pilot Light, two fellow nonprofits that offer free food education and cooking classes to kids in Chicago.
In 2021, Green City Market helped fund the ingredients needed for Kitchen Possible's kids' classes in East Pilsen and Garfield Park and Pilot Light's classes in Brighton Park. Thanks to the support of our community, we provided $3,000 in locally-sourced, sustainably-grown food from Green City Market's very own farmers.
We chatted with Katie Lowman from Kitchen Possible to discover the impact our partnership had on their kids' cooking classes this year.
As a 501c3 nonprofit, we depend on your support to make partnerships like this one happen. Please, consider giving a tax-deductible donation today — your donations will power programs like this one that promote kids' culinary education while also driving support to local farms.
---
GCM: Why do you feel it's important to get kids cooking in the kitchen? What impact do you feel like it has on their childhood? On their relationship to food and nutrition as they grow up?
Our program is based on the notion that kids can learn a lot about themselves through cooking. They learn really important and impactful life lessons every time they encounter something new in the kitchen – things like the power of patience, perseverance, teamwork, and putting that extra step of care into their work.
But it also shapes the way they think about food. To realize that the food they eat had to first be made, to be worked hard for, that changes things. And when they do that work themselves, their minds and palates open up in a really big way. We consistently teach them dishes with some pretty assertive flavors that the kids aren't used to, filled with ingredients they might not think they'd enjoy. And every time, this thing happens where they take ownership over the dish and suddenly it's something they're excited to eat. It's almost profound to hear kids say things like, "I love eggplant!" or "I thought I hated mushrooms but they're actually really good."
GCM: Do you ever teach your students about aspects of food other than cooking? Where food comes from, how it's grown, nutrition?
We tend to focus less on hard nutritional lessons and more on the ability for different colors and textures to create an exciting dish. We aim to get the kids excited about trying new things and to be open to nutritious ingredients throughout a dish, and the result is that their perspective on food opens up.
When we can talk about food that's locally grown by real people just miles from where they are, it's a nice connection point to the effort they have to put into cooking a dish. Nothing is just automatic – it requires intentionality and hard work. And that's such a powerful lesson for them to experience at a young age.
GCM: What impact has your partnership with Green City Market had on Kitchen Possible's programs?
Our partnership with Green City Market has meant we've been able to incorporate fresh, local produce and ingredients into the recipes we teach these kids. Not only does it help to ensure we can offer our in-person cooking classes, but it makes each lesson a little more special. Many weeks, because of our partnership with GCM, we've been able to send the kids home after class with fresh ingredients to cook the recipe for/with their family. They come back the next week so excited to share stories about what their loved ones thought of their food, about the experience they had cooking it together. It's amazing.
GCM: What kind of ingredients do you source from Green City Market?
We've sourced tons of seasonable produce from the market. Not only things the kids are already familiar with, but also some varieties they might not have seen before – like purple bell peppers or shitake mushrooms. And then, of course, some staple ingredients that just hit on a different level when they're super local and fresh. Like sweet potatoes and ginger. They take dishes from good to amazing!
GCM: Have the students had any favorite meals made with Green City Market ingredients?
This summer, they made a Summer Corn Chowder, filled with gorgeous seasonal vegetables and herbs (and a little bacon!). This was a fun one – it took a bit of patience, and they had to chop up lots of vegetables. But when it all came together in the end, they were so proud to have created it.
This fall, we made a Crispy Sweet Potato Gnocchi with Italian Sausage and Spinach. We roasted the sweet potatoes ahead of time for the kids, but from there they did the rest themselves, from dough to final dish. Talk about impressive food coming from 8-12 year olds! Most of them had never had anything like it, let alone made it from scratch. One of the kids said, "There's so much food in this food!" and it was so true.
Both of these recipes are flexible, too – they can swap in other proteins or vegetables and play with the flavors to really make it their own.
---
If you're passionate about the future of food in Chicago, join us in supporting kids' cooking classes in underserved neighborhoods of Chicago with a tax-deductible donation today.