Posted Oct 20, 2021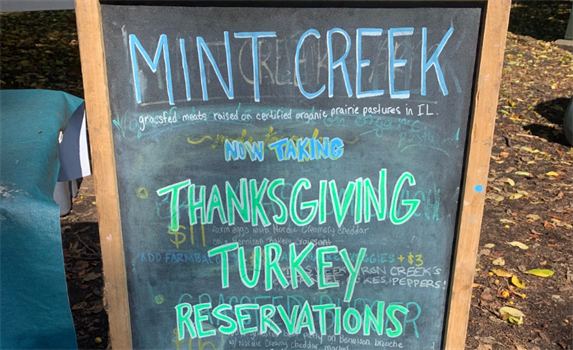 In case you missed it, one of the biggest conventional producers of turkey in the US just recalled over 14,000 pounds of turkey because it may have been contaminated with pieces of plastic. Yikes, indeed.
If you're wigged out and confused about where to get your Thanksgiving turkey, look no further. Green City Market is proud to be the first farmers' market in the country to require all of its farmers to be certified by a nationally-recognized third party agency. All of our meat and poultry vendors are certified by third-party agencies like the American Grassfed Association, Animal Welfare Approved, Certified Humane Raised & Handled, and more.
So if it's not November for you without a whole roast turkey, check out our guide to ordering a local, humanely-raised turkey this fall. Most farms are taking pre-orders while supplies last, so don't wait to make your fall feast plans.
Not sure what size or kind of turkey to get? Stop by Green City Market and introduce yourself to one of our farmers.