Posted Nov 18, 2019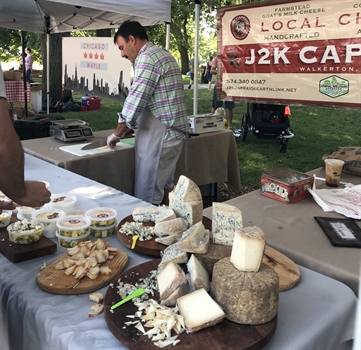 J2K is just one of the 61 family farms and local businesses that Green City Market supports, helping local Midwest farmers to grow sustainably and earn a living wage. Donate today to grow support for families like the Klinedinsts and ensure that healthy, local, sustainable food is available for generations to come.

---

Josiah and Jody Klinedinst have owned goats for many years. About eight years ago, the Klinedinsts looked at their goats, looked at their kids, and took the leap into the on-farm, family-cheesemaking adventure of their dreams. The J2K family consists of Josiah and Jody Klinedinst (J2K) and their children Sofia, Joey, Frances, and Nicolas, ranging from age 4 to 17. Their artisan creamery, J2K CAPRAIO, is based on their farm in Walkerton, Indiana, and the family business is going into their fourth year as a vendor with Green City Market.
Read on to hear their story (and for more adorable goats + kids pics) and how Green City Market supports small family farms to ensure local Midwest farmers can continue to grow sustainably and earn a living wage. Donate today to grow support for families like the Klinedinsts and ensure that healthy, local, sustainable food is available for generations to come.
Now's the best time to give; your impact will be tripled! Between now and December 31, all contributions will be matched up to $40,000 thanks to generous gifts from the Alvin H. Baum Family Fund and the Linville Family Foundation. Give today for a greener (and tastier) tomorrow.
Now, let's hear more from Josiah of J2K CAPRAIO!
What made you decide to take the leap into cheesemaking?
"I was born, raised, and grew up raising dairy goats throughout the Midwest. When myself and my wife, Jody, got married and started our family, we decided to start raising dairy goats and create our own farm. Both of us had professional positions, and we started with a deli and cheesery, and at the same time, we were raising goats on our farm and developing that side of it. After a couple years, once we got our feet wet in the industry and raised funds, we decided to turn the farm into a full-fledged creamery and cheese-making operation."
How has your business grown since you started out?
"We started out milking about twenty goats and making small batches of cheese—we're still considered extremely small—but over the last seven years we have seen unbelievable growth each year. A lot of that growth is just due to opportunities within Green City Market, especially name recognition, as well as just getting better at our craft and what we do.
We have built Indiana's first underground cheese cave! It's about six feet underground and naturally cold from the earth, so it's sustainable and we get the terroir—the flavors and taste of our place—so the cheeses that are actually coming out now are cave-aged. We have a really unique opportunity, and very few people across the country actually do what we're doing in the sense that we raise the animals, we bale the hay, we produce the milk, we collect the milk, we make the cheese, and then we bring it to market and sell it. We really are a start-to-finish creamery!"
What do you think is the most important thing people should know about shopping local or shopping (and eating) sustainably?
"You get to know your farmer, and you get to see where your food is coming from. When we talk about the miles traveled, you also know it's less miles. But first and foremost, if you're just talking about putting together a meal for your family or food for your family—like a lot of times, if you pick a restaurant, you want to pick the very best restaurant—it's the same as when you're preparing a meal for your family, you have the opportunity to get the best.
Every time I'm at Green City Market, and I walk around it and I purchase for our family, and you really are putting together a meal that's unbelievable just based on the quality of product. The opportunity to have it all collected in one place where you can access that in, really, minutes—to me is unbelievable. It's a unique opportunity, and we're just starting to have that revolution here in this country, and it's neat."
*Interview has been edited for brevity and clarity.