Posted Dec 02, 2022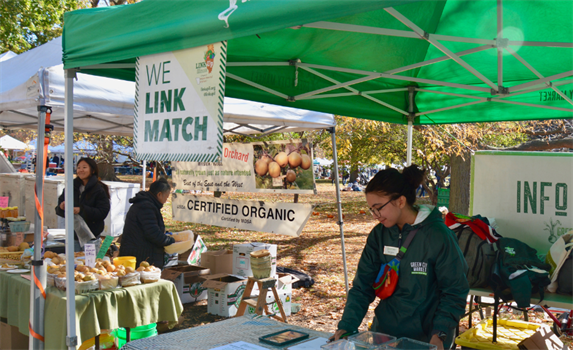 Green City Market recently announced that by the end of September, GCM had hit a new milestone surpassing $100,000 in Supplemental Nutrition Assistance Program (SNAP) currency distributed to neighbors in need at our markets. This is a substantial increase in our distribution in comparison to last season where GCM had distributed $53,866 by the end of the season.
Expanding access to nutritious, local, sustainably-produced food is one of the pillars of Green City Market's mission. "Access to nutritious food is a right, not a privilege. We're dedicated to making that right a reality for all Chicagoans," said Green City Market executive director, Mandy Moody. Moody continued, "More than 1,000 Chicagoans from over 75 zip codes across the city used SNAP benefits at Green City Market last year. It's critical to spread the word that farmers' markets are accessible to all."
At all of our markets, we are able to offer a triple match for shoppers with SNAP benefits. When shoppers using SNAP spend $25 of benefits at Green City Market, they actually receive $75 in vouchers or tokens to spend at the market like cash. Of this $75, $50 are given in GCM For All vouchers which can be spent unrestrictedly on any SNAP eligible item. Some examples include fresh fruits and vegetables, meat, eggs, honey, tofu, and bread. The final $25 are given in Link Up Illinois vouchers provided by Experimental Station and are limited to fruits and vegetables.
One of the reasons that our program has seen so much growth this year is due to the sponsorship of clean tech company Arcadia. Arcadia is on a mission to fight the climate crisis by enabling a zero-carbon economy. The partnership with Green City Market, Chicago's premier sustainable farmers' market, was a natural fit. With Arcadia's sponsorship of Green City Market this year, we were able to raise our maximum match from $15 to $25 per customer per market day.
We're thrilled to announce that as the outdoor season comes close to an end, our triple match program will be continuing throughout the winter season. Winter can be a time where it is a challenge to access local, sustainable food as many farmers' markets close for the season. At Green City Market, we understand the importance of accessing this food and are excited to be moving indoors for our winter market after a two year pandemic pause.
At our new indoor market, GCM Avondale, we will continue to offer the $25 triple match ensuring that folks facing food insecurity will still be able to access local, sustainable food all winter long. As an organization and community, we are incredibly grateful for Arcadia's role in making this possible.
Arcadia COO & co-founder, Kate Henningsen recently shared, "It's incredible to see how the GCM for All program has flourished with a growing network of intentional partnerships, and we are so grateful to be part of its impact. At Arcadia, we believe that climate action is the most effective when it puts community at the center. That's why we're doing more to support those living near the community solar farms we manage."
At Green City Market, we are looking forward to watching this program continue to flourish throughout the winter season.
GCM Avondale will be open select Saturdays from December through March beginning on December 3. The market will operate from 8 a.m. - 1 p.m. and is located at 3031 N Rockwell St.
Shoppers can expect to see many of their favorite farmers and food producers from GCM Lincoln Park and GCM West Loop. Some of our Avondale vendors include River Valley Ranch, American Pride Microfarm, pHlour Bakery, and more.
With Arcadia's sponsorship helping us continue our triple match program combined with our entrance into a new location, we are very excited to meet new neighbors and expand the reach of our GCM For All food access program.
Once again, we're grateful for the support from Arcadia. New members who join Arcadia at Green City Market will receive $100 toward their power bill as a thank-you.