Posted Jun 14, 2022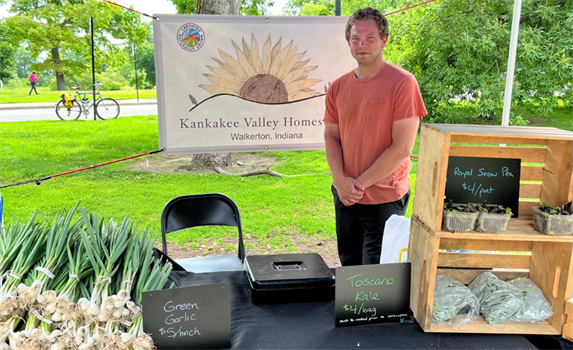 Kankakee Valley Homestead, one of our new vendors at Green City Market this season, is a Certified Naturally Grown farm in Walkerton, Indiana, which is owned and operated by Farmer Tom Eich. They specialize in different types of vegetables and will be participating in our Lincoln Park market on Wednesdays throughout the season.
Access to food is a right, not a privilege. At Green City Market, we're dedicated to making that right a reality for all Chicagoans. 1 in 6 people in Chicago regularly struggle to access nutritious food — we're working to make sure that great, locally- and sustainably-sourced food is available and accessible to all, no matter where you live or what you make. Kankakee Valley Homestead is working equally as hard to ensure that individuals facing food insecurity have access to locally- and sustainably grown food.
As a part of the GCM For All program, GCM matches up to $25 in SNAP benefits at its markets in Lincoln Park and the West Loop to double the purchasing power of Chicagoans facing food insecurity. Thanks to Experimental Station's Link Up Illinois program, GCM is now able to provide an additional $25 match beginning on April 30, 2022. The additional match funded through the Link Up Illinois program can be used to purchase fresh fruits and vegetables.
Simply put, when shoppers use $25 of SNAP benefits at GCM, they will receive an extra $50 to make their benefits go further. What begins as $25 transforms into $75 to be spent directly with farmers and to nourish Chicagoans facing hunger.
Similar to the food access work being done at GCM, Tom has taken it upon himself to offer an additional SNAP match for all of their shoppers to increase purchasing power for individuals facing food insecurity throughout the midwest.
Tom shared with GCM that Kankakee Valley Homestead was founded with a goal of fighting food insecurity.
Their supplemental SNAP matching program is one way that they have been able to follow through on their mission.
When asked what into their decision to offer this SNAP matching, Tom shared the following:
"Despite being surrounded by fields of crops our hometown fits the definition of a food desert and I grew up in a low income household and have lived and worked in underserved communities so the experiences with food injustice from an income perspective led to the creation of our farm with the goal of increasing access to fresh and sustainable produce to our communities."
He continued on saying, "We've run an at-cost CSA for four years in our local food desert and have tried ways to bring food access to our market communities as well. Since our first market five years ago we've maintained the policy of doubling WIC vouchers. In March of 2020 we began a pay-as-you-can pricing model where we refused to acknowledge that our produce had an inherent set value: our prices were all marked as X. It was a fascinating and humbling experience and we're forever grateful for the response from our community but the lack of pricing was a greater source of conflict and anxiety for more people than I had hoped for…"
This season they took a different approach by taking their WIC matching program and applying it to SNAP and SFMNP programs as well.
Tom told GCM that Kankakee Valley Homestead is "really excited to be a part of markets this year that not only match but also triple match. With the GCM triple match program prior to our link match we can create a 6x increase in purchasing power."
So how does this program work at Kankakee Valley Homestead? Tom told GCM that, "After our market patrons receive their LINK from you (or our other markets) they can then bring that LINK to our stand and use it on purchases on fruits and vegetables. When they make purchases using LINK tokens or coupons we match the LINK spent towards that purchase dollar for dollar. For example: For an eight dollar purchase once they pay with $4 of LINK we match the other four ourselves."
On Instagram Tom shared, "I'm often vocal about how farmers markets should create access for everyone and we're hoping this program is another step in that direction."
This program is definitely a step in the right direction and at GCM we are so proud to have Kankakee Valley Homestead as one of our vendors.
Tom and Kankakee Valley Homestead join us at GCM Lincoln Park every Wednesday. Be sure to stop by and say hello to Tom and his team. Interested in what Kankakee Valley Homestead is offering this season? Tom told GCM, "We've had mostly seasonal spring vegetables until now: green garlic and onions, leafy spring greens, peas, and a few other things. As the season extends into summer I'm excited to add squash, cucumbers, okra, herbs, melons, potatoes and other seasonal vegetables."