Posted Dec 05, 2018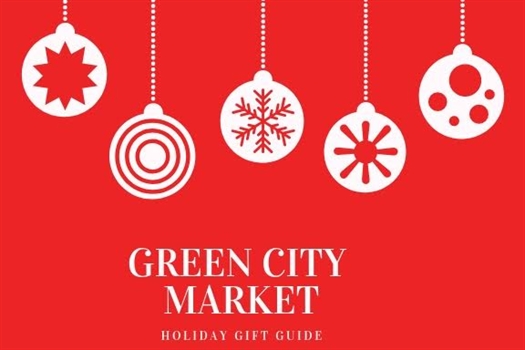 Support Midwest growers and small businesses with gifts from the farmers market.
Give the Gift of Green City Market: We are thrilled to unveil the new Green City Market gift certificates this season. Gift certificates are available to purchase in increments of $25. And while you're at it, grab a Green City Market tote, t-shirt, or cookbook to complete the package. There are two ways to get your Green City Market gift certificates and merch this holiday season:
Purchase yours at the Indoor Market (December 8, 15 & 22) via credit card or cash.

Call the Green City Market Office (773) 880-1266. Pay over the phone and we'll mail your item(s).
Ready-to-Grow Mushroom Kit! For more than four decades River Valley Ranch has been growing, harvesting and foraging edible fungi. Now you can too with the help of their Ready-to-Grow Fresh Mushroom Kits. Kits are available in two different sizes starting at $14.99 and are available to purchase at our Indoor Markets or online here.

Forbidden Root & Green City Market: Believe it! Botanical brews and booze are all the rage this season. Buy a gift of Forbidden Root merchandise and you'll be giving a present to Green City Market as well. 100% of Forbidden Root merchandise proceeds go towards Green City Markets farmers markets, edible education and access programs. Plus, their restaurant and brewery sources their produce and products from GCM farmers. Why not take home a growler as well? Click here to purchase your gifts!
The Holidays are Hot-Hot-Hot! Whether you're a spice novice or a pepper pro, our vendors have the perfect sauce for you. Bushel & Peck's and Co-op Hot Sauce have you covered with a trio gift pack of hot sauce...All hot sauces are made with local ingredients and a diverse range of peppers. Know a hot sauce lover? Buy them a subscription to Co-Op Hot Sauce Frequent Fire Club or visit Co-Op Hot Sauce at market December 15th. Bushel and Peck's will be at the indoor market December 8, 15 and 22.
Holidays Got you Frazzled? Chill with a bit of Tea & Honey. Melt your stress away with a spot of tea and a bit of honey from our amazing vendors. Oriana's Oriental Orachard and Bushel & Pecks have splendid teas for your tasting. You won't want to miss Honeyworks' raw honey at our Indoor Market December 15 & 22. Pick up some tea from Oriana's Oriental Orchard and Bushel & Pecks December 8, 15 & 22.
We Be Jammin'! Give the gift of summer from Ellis Family Farms. Strawberry, rhubarb, raspberry and plum your jam? Get a package of three for $21.00. Buy a pair of vinegars and a one pound jar of pure honey for $20.00. Or mix it up with a one-pound jar of honey and two jams for just $21.00. What better way to preserve the summer than with Ellis Family Farms, available at the indoor market December 15th & 22nd.
Winter Blues...That Are Berry Special! Sink into a bath filled with blueberry suds and bubbles, inhale the amazing scent and wash away your troubles. Two of our amazing artisans have created soaps and scents from goats milk and blueberries. The bars of soaps make perfect stocking stuffers -- Joe's Blueberries will be at market December 15 and Kinnikinnick Farms will be at market December 15th & 22nd.
Savor The Taste of Summer. Spice up your gift giving with Tomato Mountain or River Valley Ranch salsa. Picked at the peak of the season, each jar is packed with all of summers goodness full of antioxidants, vitamin C, vitamin K and so much more. Be sure to stop in for a taste at our indoor market December 15th & 22nd.
Feelin' Sappy? Give the gift of Artisan Syrup. It's one of Buddy the Elf's main food groups...Syrup. Burton's Maplewood Farms is serving up 100% pure maple syrup that can be found in many of Chicago's top restaurants. Tap into the boozy side of Burton's offerings including brandy, whiskey, bourbon and rum barrel aged maple syrups. Think of the bourbon maple pecan pies, whiskey maple glazed bacon cheeseburgers, or the rum-raisin maple french toast just waiting to be made! Stop in at the indoor market December 15th & 22nd and put some under your tree.