Posted Jun 28, 2021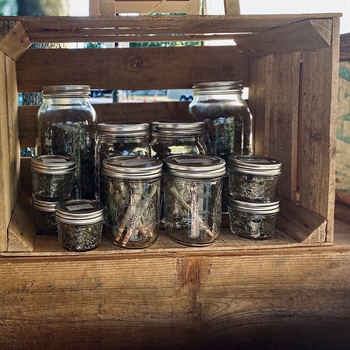 If you, too, did a double take as you noticed jars of cannabis and pre-rolled joints on display amidst the leafy greens and pastel flowers propped against Jacobson Family Farms' artistic wooden crates, you are not alone.

Jacobson sells CBD, or cannabidiol, the second most active ingredient in cannabis. Unlike THC (the first active ingredient), CBD does not get you high, but rather is often used medically for pain relief and anxiety, and hosts a number of other potential heart health and neuroprotective benefits.

They grow their CBD flower outdoors on their farm without any synthetic fertilizers, pesticides, or fungicides — only organic compost, sunlight, and water. They then dry, trim, cure, and package this high-quality hemp in their barn and bring it to Green City Market's Lincoln Park and West Loop locations along with their arugula and microgreens.

Jacobson sells an energizing sativa option, as well as a more neutral and relaxing hybrid Indica/Sativa blend. I have had a lot of muscle soreness and headaches recently, so, after a long market day on my feet, I opted for the hybrid and the relaxant properties were exactly what I needed right before bed.

Though I did not stay awake long enough to notice how I felt in the time following the CBD joint, I can say that I woke up the following morning feeling more well-rested than I have all week. Correlation or causation? We'll need some more data points to find out, so stop by Jacobson Family Farms at one of our upcoming markets or shop online for home delivery or curbside pickup through GCM Delivered to try it out yourself!