Posted Sep 13, 2021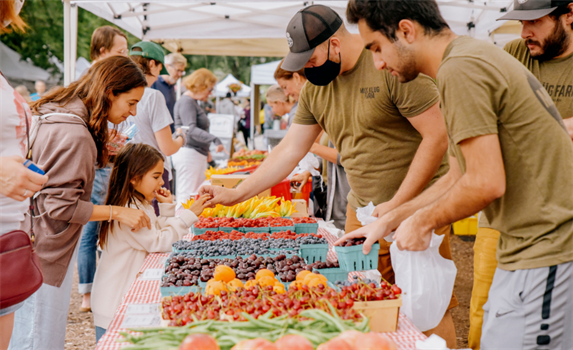 September is Hunger Action Month, and expanding access to nutritious, local food is a pillar of Green City Market's 501(c)(3) nonprofit mission. Read on to learn more about the lived impact of one of our food access programs, and donate today to help feed Chicagoans facing food insecurity.
---
Anne has not missed a market yet this season. Even in and out of the hospital, she never fails to stop by GCM Lincoln Park every Wednesday and Saturday to "keep a normal routine."
Anne (whose name here has been changed for privacy) has been a longtime Green City Market regular and knows what seems like nearly everyone in the community — some vendors even lovingly refer to her as "the queen of the market." So when she began getting sick and it seemed that she would have to choose between paying the medical bills and continuing to come to GCM for fresh, local food, people she knew suggested she apply for SNAP benefits.
"It's really easy to qualify if you're a senior!" Anne enthused.
Not only does Green City Market welcome Link (also known as SNAP or EBT), but we also match Link funds — when folks spend $15 of Link with Green City Market, they automatically get $15 more to spend to maximize their purchasing power. GCM's Link matching program, GCM For All, "was a lifesaver with my medical bills," Anne shared.
I had the pleasure of walking through the market with Anne one Saturday morning to see what she purchases with her Link card and how much more she is able to get with Green City Market's Link match.
Our first stop was American Pride Microfarm, where she ordered her special "Anne mix," a combo of micro onion, broccoli, red garnet, and mustard.
Then we stopped at Finn's Ranch. Anne used to be a vegetarian for a long time, but her doctors recommended she start eating meat for her blood health, and when Anne found out that Finn's is Animal Welfare Approved and Certified Humane Raised & Handled, it made a big difference for her.
We spent a while chatting with Alex Finn about her farm and her products. Finn's beef is packed with nutrition, partially due to the way they rotate the animals on pasture for optimal soil and animal health, Alex explained as she handed Anne her ground beef.
We continued down the path: at Froggy Meadow, Anne gets her cucumbers and sungold tomatoes, and Jerry gives her cooking tips for fiddleheads and lion's mane mushrooms. Anne raves about the sungold jam from Bushel and Peck's, explaining to me that she puts it on everything, from chili to sandwiches to eggs. She tells me that Mint Creek has the best honey she's ever tasted in her whole life, and that Seedling has the best apple cider and asparagus. She grabs her usual potatoes from Iron Creek to steam at home, and then she nearly bursts with excitement as we turn towards what she calls "the star new guy of the market": Daisies.
As we approach, Joe Frillman, Daisies' head chef and brother of Tim Frillman of Frillman Farms, waves her over and Anne gets her new favorite treat: tajarin egg yolk noodles with mushroom ragu, made with market ingredients.
Before I said goodbye to Anne at the bus stop on the south end of Stockton Street, she looked over her purchases and remarked:
"Not only am I getting great products and great community support, but [GCM For All] has been incomparable for my budget. And when I come on Wednesday and Saturday, that's an extra thirty dollars a week, and allows me to keep shopping at Green City Market!"
Access to good food is a right, not a privilege. Green City Market is dedicated to making that right a reality for all Chicagoans. Learn more about how we're working to make sure that great, locally- and sustainably-sourced food is available and accessible to all, no matter where you live or what you make.