Posted Apr 20, 2022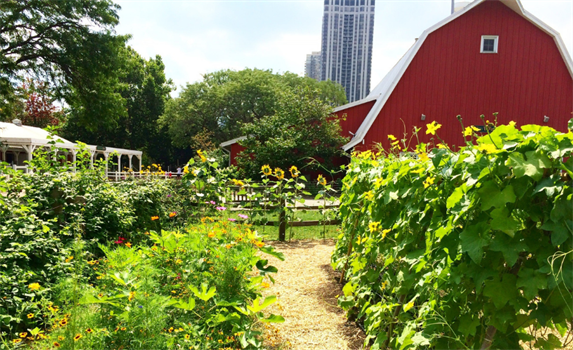 Happy Earth Week! Sustainability is one of Green City Market's core values.
One of the ways that we promote environmental sustainability is by working with vendors who use practices that reduce or sequester emissions, promote soil health, increase biodiversity, and/or protect water systems. To do so, we require each of our vendors to be certified by at least one of the following organizations: American Grassfed Association, Animal Welfare Approved, Bloom Check, Certified Grass-Fed Organic Dairy, Certified Naturally Grown, Certified Humane Raised & Handled, Demeter, Grain Millers Certified, Food Alliance Certified, Michigan Agriculture Environmental Assurance Program, or USDA Certified Organic.
In honor of Earth Day, we want to highlight two of our vendor certifications and show you how our vendors are helping our environment by achieving these certifications.
First up is the Food Alliance Certification. According to the official Food Alliance website, their certification ensures several important factors for agricultural operations. Looking closely at environmental impact, this certification ensures "reduced risk from pesticides and other toxic or hazardous materials." According to Food Alliance, their certification requires farmers to approach their operations in a way that naturally reduces the presence of pests and diseases. Farmers can "rotate crops to prevent the build up of pest populations, or plant rows further apart to allow better air circulation to avoid problems with mildew." This in turn eliminates the need for pesticides and other toxic materials.
In order to actually become certified, "Food Alliance requires farmers to show that they have taken appropriate steps to prevent pest problems, that they have evaluated the extent and likely economic impact of pest problems, and that they have chosen a mechanical or chemical response to the threat which poses the least possible risk to human health and the environment."
Because pesticides can contaminate water and soil, they can have a devastating impact on non-target plants, birds, fish, and beneficial insects. As a result of Food Alliance's requirement to naturally eliminate pests and the need to use pesticides, the Food Alliance certification ensures the "protection and enhancement of wildlife habitat and biodiversity," and "conservation of soil, water, and energy, and reduction and recycling of waste."
Each of these important factors goes a long way in promoting the sustainable practices that lead to a healthy planet. Several of our vendors have received this certification including Smits Farm, Nichols Farm & Orchard, and Arnold J. Klehm Growers.
Next, we want to highlight one of our more popular certifications: USDA Certified Organic. We hear the term "organic" a lot. So, the question is, what does it actually mean, and does it actually help our environment?
According to USDA, "Organic is a labeling term that indicates that the food or other agricultural product has been produced through approved methods. These methods integrate cultural, biological, and mechanical practices that foster cycling of resources, promote ecological balance, and conserve biodiversity. Synthetic fertilizers, sewage sludge, irradiation, and genetic engineering may not be used."
By receiving the USDA Organic Certification, farmers are showing that they are approaching their operations in a manner that is protecting the environment. According to the Institute for Agriculture & Trade Policy, "almost 40% of the greenhouse gas emissions of synthetic N fertilisers occur in production and transport, largely in the form of CO2 caused by the burning of fossil fuels during manufacture." By eliminating synthetic fertilizers and other substances, our farmers are protecting the grounds that they are farming and helping our community gain access to healthy food grown in a sustainable manner.
Many of our vendors are USDA Certified Organic, including but not limited to Alden Hills Organic Farms, Finn's Ranch and one of our new vendors, Flatwater Farms.
It's exciting to see how our vendors' work is helping protect our planet. One of the best actions you can take is to support our farmers who are all growing local, sustainable food. Be sure to drop by our market this Saturday in Lincoln Park from 8 a.m. to 1 p.m.