Posted Jul 12, 2022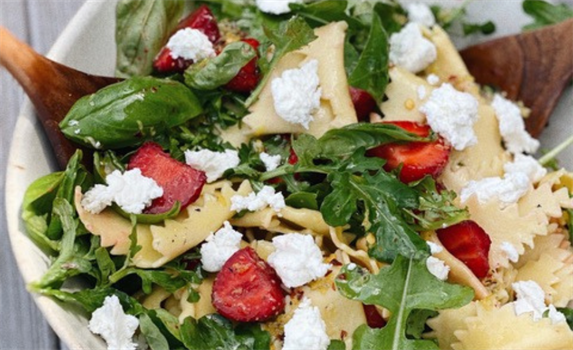 We're back with another GCM Creation submitted by FARE, a local women owned business with an emphasis on veggie forward seasonal food. Britni, the co-owner of FARE, shared that this Strawberry Basil Pasta Salad "makes the perfect summer lunch and holds well enough for a picnic too." Check out the recipe below and if you give it a go, be sure to share the results and tag @greencitymarket and @foodbyfare on Instagram.
---
Ingredients
1 lb dry pasta (rotini, farfalle, or another short shaped pasta)
1.5 cup strawberries
1 cup basil leaves
1 cup arugula
1/4 cup goat cheese
4 Tbsp. olive oil
2 Tbsp. fresh squeezed lemon juice
1/4 tsp. salt
1/8 tsp. pepper
Pinch red pepper flakes
DIrections
1. Cook pasta according to package instructions in well salted water. Once cooked, drain pasta and spread in one layer on a sheet pan. Drizzle with 1 Tbsp. olive oil and toss to keep noodles from sticking together. Set aside
2. Trim tops off strawberries and cut large ones in half. set aside
3. Pick basil leaves off stem. Leave whole, any large ones can be ripped in half. Set aside
4. Combine 4 Tbsp. olive oil, 2 Tbsp. lemon juice, salt pepper and red pepper flakes in a small jar. Secure lid tightly and shake to combine.
5. Add pasta and strawberries to a large bowl, pour half the dressing and toss gently to combine
6. Add arugula and basil to the bowl along with remaining dressing and fold in gently.
7. Top with goat cheese and a pinch of flaky sea salt.
Enjoy!
Be sure to stop by Green City Market this Saturday to grab the ingredients for this recipe.