Posted Jul 08, 2021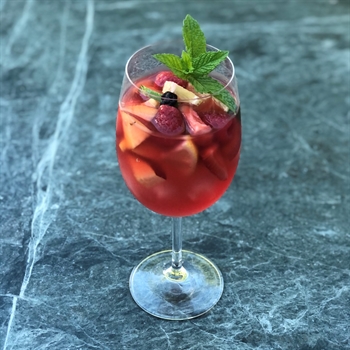 This refreshing summertime recipe multiplies easily for a group. Get the recipe below, and plan your visit to Green City Market today to stock up on the best farmers' market raspberries, blackberries, and mint.
Makes:

6 servings

Prep time:

20 minutes

Chill time:

About 2 hours
Ingredients
For the raspberry-mint syrup:
2 cups raspberries, packed

1 cup sugar

2 strips (1-by-3-inches) lemon zest

1 tablespoon fresh lemon juice

2 sprigs fresh mint

2 cups water
For raspberry-mint rosé sangria:
1/4 cup each: gin, brandy and raspberry-mint syrup

1 bottle rosé wine

1 medium Cara Cara or blood orange, halved and cut in half-inch thick half moons

1 lemon, thinly sliced and seeded

4 strawberries, hulled and sliced thinly

1/2 cup raspberries

1/2 cup blackberries, halved

1 can (11.15 ounces) chilled San Pellegrino Aranciata or Aranciata Rossa Sparkling beverage

Mint sprigs, for garnish
Directions
For the raspberry-mint syrup, combine all ingredients in a large saucepan. Heat to a boil, stirring to dissolve sugar.

Reduce heat, cover and simmer 5 to 10 minutes until fruit is falling apart. Cool mixture. Strain through a sieve into a bowl. Press solids to extract all the liquid. Discard solids. Cool, cover and refrigerate.

For rosé sangria, combine gin, brandy, raspberry-mint syrup and rosé wine in a large glass pitcher. (I often use a huge glass beverage jar for parties.)

Add fruits to macerate. Refrigerate until well chilled, about 2 hours.

To serve, add chilled citrus-flavored soda and stir to combine and fizz. Serve in a large wine goblet over ice. Garnish with a sprig of mint.
Tips
For a non-alcoholic punch, try combining syrup with lemonade or limeade to taste, and sparkle up with lemon- or lime-flavored soda water.

Can't find San Pellegrino Aranciata or Aranciata Rossa Sparkling beverage? Substitute 12 ounces of any chilled citrus-infused soda water.