Posted Aug 12, 2021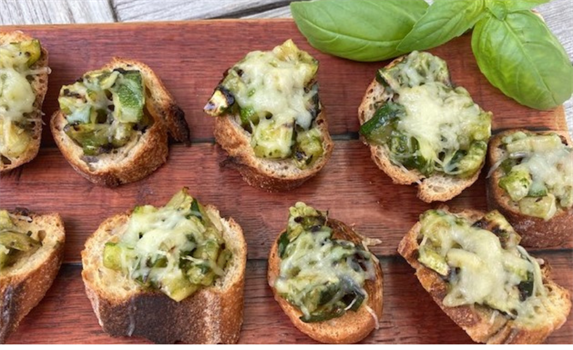 You miss 100% of the veggies you don't grill. We love this grilled zucchini and pesto bruschetta recipe from JeanMarie Brownson, award-winning author of Dinner at Home and Chicago Tribune columnist.
This bruschetta recipe has an insane amount of flavor with a few ingredients. The trick? Use the freshest bread, tenderest zucchini, most aromatic basil and flavorful cheddar.
Makes: 6 to 8 appetizer servings, about 2 per serving
Prep time: 25 minutes
Cooking time: 25 minutes
Ingredients:
1 French baguette, about 1 pound
½ cup olive oil
1 clove garlic, peeled, minced
Leaves from 1 bunch fresh basil (about 8 medium sprigs), about 1½ cups, loosely packed
4 small zucchini or yellow squash or a combination of colors
Salt, freshly ground pepper
About ½ cup shredded sharp white cheddar or manchego cheese
Directions:
Heat oven to 350 degrees F. Thickly slice baguette on the diagonal, creating long oval slices. You'll need 14 to 16 slices. Lightly brush slices on both sides with some of the olive oil. Arrange slices in a single, uncrowded layer on a baking sheet. Use two sheets if necessary.
Bake, turning slices over once, until lightly crisped, about 12 to 14 minutes. Cool. Wrap in foil up to 1 day if working in advance.
Drop garlic and basil leaves into a blender with the motor running. Keep machine on while you pour in ¼ cup of olive oil. Process until mixture is nearly smooth. Season with ¼ teaspoon salt. Scrape into a small container; refrigerate up to 1 day.
Prepare a charcoal grill or heat a gas grill to medium. Cut zucchini into ¼-inch thick lengthwise slices. Brush slices on both sides with some of the remaining oil. Sprinkle generously with salt and pepper. Grill zucchini slices, turning once, until golden and nearly tender, about 5 minutes.
Remove to a cutting board. Cut into ½-inch pieces (about 3 cups pieces) and put in a bowl. Toss with about half the pesto, or as much as you like, to taste.
Arrange toasted bread slices on the baking sheet(s). Pile zucchini evenly onto toast slices, about 1 tablespoon per slice. Sprinkle each with some cheese. Bake at 350 degrees F. until cheese is lightly melted, about 3 minutes. Serve warm.
Tips:
Bakery-bought crostini stands in nicely for the homemade toasts.
Note that baguettes can vary in size and weight.
This pesto is nut-free and dairy-free with a slightly thinner consistency than classic pesto.
If you're time crunched or fresh basil is not readily available, substitute refrigerated store-bought pesto.