Posted Mar 29, 2022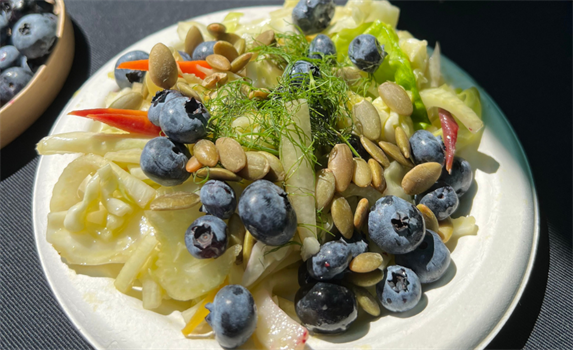 By Chef Renée Howarth, Green City Market Associate Board Member
I live in Chicago, and spring has finally sprung! For me, this means weekly trips to fill my fridge at the local farmers' market with the freshest produce I can find. I get particularly excited when I see carrots with their leafy tops still attached. Before I load my groceries in the produce drawer, I make sure to detach the tops from the carrot root. The process increases the life of the carrot, and I consider utilizing both as a two-for-one deal. The flavor is reminiscent of parsley with earthy carrot notes. The similar profiles are because carrots and parsley are related. They are part of the Apiaceae family which also includes parsnips and some spice cabinet staples like dill, caraway, fennel and cumin. Because the flavor of carrot tops is so herby, I like to use them in place of traditional herbs in my Carrot Top Pesto. This pesto is an excellent dressing for salads, like the recipe below, and it's also great to spread on crusty toast or used to coat noodles.
Carrot Top Pesto
Makes approximately 1 cup of pesto

Must use within 7-10 days
ingredients
1 bunch carrot tops (approximately 1 cup)

3 cups hot water (almost boiling)

2 tbsp whole almonds

1/3 cup parmesan cheese

1 cup olive oil

2 tbsp minced shallot

1 tbsp lemon juice

Kosher salt to taste
directions
Wash carrot tops and ensure all sand is rinsed off.

Place a strainer atop a bowl and add carrot tops to the strainer.

Slowly pour hot water over the carrot tops to cheater blanch them. The carrot tops should turn a bright green color.

Remove the carrot tops from the strainer and wrap them in paper towels to remove excess moisture.

Mince carrot tops––it doesn't need to be perfect. Just run your knife through them, so the food processor does less work.

In a small sauté pan over medium-low heat, add almonds.

Pay very close attention to the almonds and cook until toasted. Do not wait until they look toasted; you will smell them first!

Once the almonds are cool to the touch, add them to a food processor with the carrot tops, parmesan cheese, olive oil, minced shallot and lemon juice.

Pulse the food processor approximately 5-8 times or until the pesto is your desired consistency.

Salt pesto to taste.

Keep your pesto in the refrigerator until ready to use.
---
Carrot Top Pesto Salad
ingredients
¼ cup carrot top pesto

½ cup diced carrots (approximately ½ inch dice)

¼ cup diced radish (approximately ½ inch dice)

1 tbsp scallions sliced on a bias

½ cup diced chicken or chickpeas

6 torn mint leaves

Kosher salt to taste

Fresh cracked black pepper to taste
directions
In a medium-sized bowl, combine all ingredients and stir until everything is fully coated in pesto.

Add salt and pepper to taste.

Serve immediately or hold in your refrigerator. The flavors will only deepen with time.