Posted Jul 19, 2021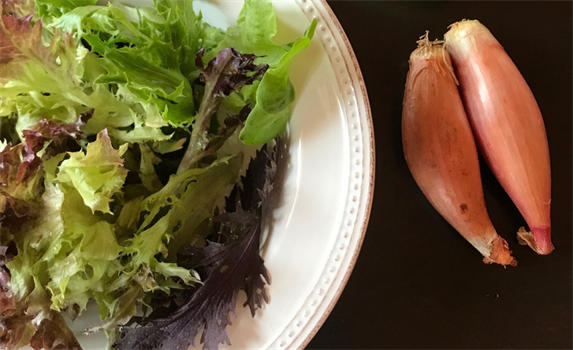 This recipe was inspired by a lovely salad I enjoyed at one of my favorite New York City restaurants, Via Carota in Greenwich Village. It's not just a simple green salad; the dressing combines shallots and garlic plus a hint of thyme for a rich, unique flavor.
Makes: 4 servings

Prep time: 20 minutes
Ingredients:
1 medium shallot, minced

1 tablespoon sherry vinegar

½ tablespoon warm water

1 clove garlic, grated

1 sprig fresh thyme, leaves stripped

1 teaspoon Dijon mustard

½ cup extra-virgin olive oil

Salt, freshly ground pepper

10 to 12 ounces mixed baby greens, washed
Directions:
Place shallots in a fine strainer. Rinse with cold water; drain. Place in medium bowl. Add vinegar and warm water; let stand 2 minutes.

Stir in garlic, thyme leaves, mustard and pinch of salt. Whisk in olive oil. Taste, adding more salt or vinegar to taste.

Place half of the greens in a salad bowl. Sprinkle with salt and pepper. Spoon some of the dressing over the greens. Top with more greens, salt, pepper and dressing to taste.
Tips:
Any mix of young greens from Green City Market works for this salad. Good choices might be baby kale or chard, mache, mizuna and young red lettuce.

Make the dressing first to give it time to stand and mellow the flavors while you wash and dry the greens. The dressing stores well in the refrigerator for about three days.