Posted Aug 13, 2019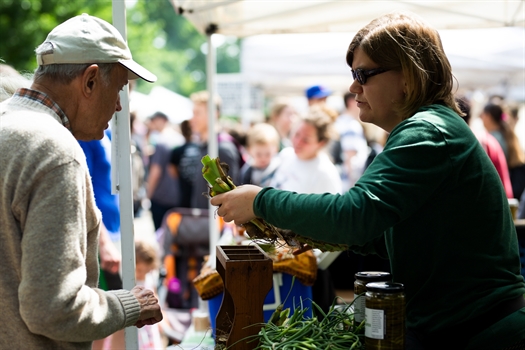 National Farmers Market Week just came to a close and it is a great reminder to thank our farmers and vendors for all that they do each and every day to bring us great, nutritious, and sustainable food.

We have been sharing many statistics with you throughout the last week. These facts and figures make it clear how essential our local, sustainable farmers are to nourishing our communities.

Providing incredible produce, meats, and other goods nourishes our bodies but Green City Market also provides the opportunity to nourish relationships.

According to the National Farmers Market Coalition, people who shop farmers markets have 15 - 20 social interactions per visit versus 1-2 interactions while shopping at a grocery store.

I think this statistic is crucial to the health of our communities.

During my weekly market visits, I see the delight in people's eyes as they try something new or share the excitement of a successful recipe or laugh over a recipe that was not quite so successful. I have seen hearts heal as the community comes together after the loss of a family member or friend.

Farmers markets help us slow down, if only for an hour each week, to bring people together, to talk to each other in person, and share an experience. Food is a common bond between all of us, it brings us together.

I am so grateful to all our farmers and vendors who work so hard to bring us the best possible food and experience every market day.

To our regular shoppers, chefs, and volunteers who show up no matter the weather, we are here 20 years later because of you.

If you have never been to Green City Market or have not been in a while, I invite you to come and visit and be part of the community - you are always welcome!