Posted Dec 01, 2020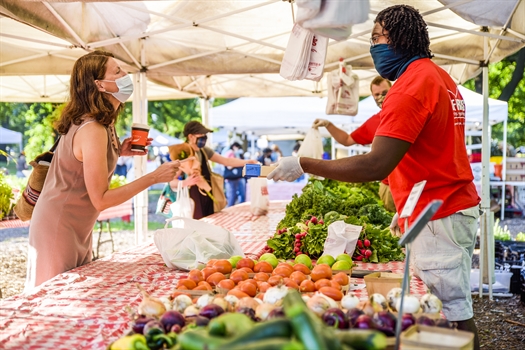 "Getting a variety of farmers together, farmers that grow an incredible variety of produce, together in one spot on one day and getting them to do that well is a huge undertaking," remarks Carl Smits of Smits Farms in Chicago Heights, Illinois. "We see the benefit of that, and we're really happy to be a part of that to bring produce directly to the consumer in the city."
Carl and his wife Debbie started farming in 1990 with 30 acres and a greenhouse. Over the last two decades, they've expanded their family operation with the help of six kids, growing produce, florals and herbs in the south suburbs and stewarding their land with sustainable farming practices.
They believe "in order to take from the ground, you have to put back." Smits has been selling at Green City Market since its inception in 1999. After more than thirty years in business, 2020 threw them for a loop.
"The pandemic added a lot of real uncertainty and just not knowing," Kayla Biegel, Carl's daughter, comments. As the farmers markets and restaurants her family's business depended on quickly shuttered in response to the coronavirus outbreak in the US, she wondered, "Are we going to be able to plant this? Are we going to be able to sell this somewhere? What is it going to look like in a few months if we don't get to sell anything?" Everything for them was "a big uncertainty, a big question mark."
Coronavirus fractured the local food system Smits and so many local farmers had grown used to. With farmers markets temporarily closed citywide, Smits found themselves without direct access to their customers, and Chicagoans found themselves stuck in long grocery lines or pushed to delivery services from big box retailers, but not for long.
Green City Market got to work. Propelled by the support of folks like you, the Green City Market team rapidly developed and launched GCM Delivered, an innovative online ordering and home delivery platform, designed to keep our farmers connected to shoppers and to provide a safe option for Chicagoans to access the food they need.
GCM Delivered made it possible, for the first time, for people to order from dozens of our Midwest producers from Illinois, Indiana, Wisconsin, and Michigan and get their groceries delivered to their homes in a single, simple, safe transaction.
Just seven days after Governor Pritzker announced the shelter-in-place order and less than two weeks after our first cancelled market — thanks to your support — we launched GCM Delivered. And you made it possible, for the first time, for our farmers to be able to stay in business through online sales, even as restaurants and farmers markets stayed closed, seemingly indefinitely.
"Farmers are averse to change," notes Carl. "Once we have something that's working, farmers have a hard time changing it because it took them a long time to get to a place where things are working. This year, a wrench was thrown into that, and it forced us to change."
The ability to reach their customers online was a game-changer for Smits. The sales channel that GCM Delivered provided filled a significant gap, ensuring Smits would make it through some of the toughest months of the pandemic. As Kayla explains, "GCM Delivered has taken that uncertainty away, and it gave us a little more security knowing we would be able to sell things even if the farmers markets didn't open back up."
Against all odds, our farmers may be coming out of this year more resilient than they were before because of local food lovers like you. However, as the pandemic persists, we know that we're not out of the woods yet.
By chipping in today, you can help ensure the Midwest's small, sustainable farmers don't become a thing of the past. With your tax-deductible contribution, you can help us grow GCM Delivered. As the end of our outdoor season for our farmers markets rapidly approaches, you can help us reach more households with GCM Delivered and safely get food to people who need it as the months get colder and the virus carries on.