Posted Mar 17, 2020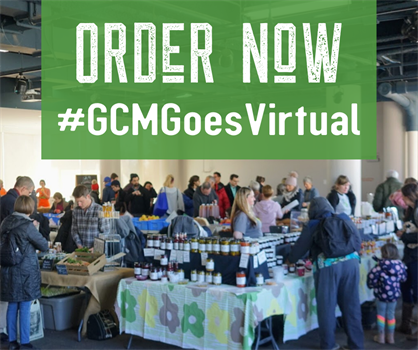 Sustainable farmers respond to Chicagoans need for fresh, local food with home deliveries
For more than 20 years, Green City Market has been the leading source of local, sustainable food in Chicago. Tens of thousands of Chicagoans depend on our markets as the place to buy the best food in the Midwest while nurturing relationships and building community.
With statewide guidelines strictly limiting the number of people who can gather together, we are faced with an uncertain future for the remainder of our Indoor Market Season.
Nourishing food and the farmers who grow it are, and have always been, essential.
Our farmers have upheld a steadfast dedication to ensuring the highest quality products, as well as their commitment to environmental stewardship and the responsible treatment of animals.

Simply put, the food Green City Market vendors offer for purchase is the safest, most nutritious food available.

We've been working around the clock alongside our hardworking farmers to "go virtual" and connect you with a growing list of local, sustainable farmers who are ready to deliver farm fresh goods, right to your doorstep.
Visit our vendors virtually on the Green City Market website where you will be able to place orders with 20+ vendors who are currently making deliveries to the city or are offering quick pick-up options.
Now that we are able to connect you, our valued Green City Market supporters, directly to the farmers you know and love, we invite you to build community with us online.
Please, place an order with a farmer (or two!) this week and share a nourishing meal with us online.
#WashYourHands and then post photos of your dishes on Facebook, Instagram, or Twitter with the hashtag: #GCMGoesVirtual, tag @GreenCityMarket, and the farmers who grew the ingredients used in your dishes.
More than 85,000 people follow Green City Market online and together, we have the purchasing power to show our farmers that we stand with them, always.
Together with you, Green City will continue to lead the effort to support all those impacted by our mission—especially our farmers, students, and those who rely on Green City Market for access to healthy food.
May you be nourished in the days ahead,
Melissa Flynn, Executive Director
For regular updates regarding our markets and nonprofit programs, please visit our website, Facebook, Instagram, and Twitter. For more information about coronavirus (COVID-19), please visit the World Health Organization, the Centers for Disease Control and Prevention, and the Chicago Public Health Department online.