Posted Apr 14, 2021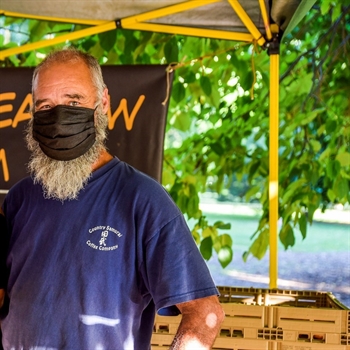 Ahead of our 2021 farmers market season, we chatted with Jerry Boone of Froggy Meadow Farm in Beloit, Wisconsin about his experience as a small-scale farmer weathering the pandemic. Learn more about GCM's Covid-19 Farmer Relief Fund, and how you can provide immediate relief to sustainable farmers and food producers who have been hard-hit during this pandemic.
GCM: Why do you choose to sell with Green City Market? Why have you returned year after year?
"GCM is tireless in promoting all the farmers and vendors at the market. GCM's existence provides us with a really great platform for a small farmer like me to access customers in Chicago."
"All my business, other than wholesale business to restaurants, goes through Green City Market. Green City Market's future is vital to the future of my farm."
"I'm devoted to Green City Market because it has made my business viable. Green City Market and its support and its customers have made me into a farm that can compete with these giant farms."
GCM: What challenges has your farm faced in the last year? What do you anticipate will be distinct about this upcoming season? What do you think will be difficult, and where do you find hope right now?
"2020 presented a lot of challenges. At the very beginning [of the pandemic], there was tremendous uncertainty about whether there would be a season at all. Farming is a one-shot deal — you make all your plans, you begin your operations, and that's the only shot you get that year. So this uncertainty made planning incredibly difficult."
"The closure of restaurants caused a huge loss of income and sales for most farms, and we had to develop new ways to deal with it. [2021] is going to be another season which apparently will be marked by uncertainty. We don't know if Covid restrictions will ease; we don't know if customers will show up at the market; we don't know if restaurants will be open, which hurts our wholesale business. And then on top of that, there's all the normal uncertainty inherent to farming: weather, insects, pests, labor shortages."
"But, I think there's a lot of hope. Last year, our customers showed us tremendous support. There were many obstacles, created by Covid, that could have prevented them from coming to the market, and yet they came to the market in droves and showed tremendous support. They realized the value of high-quality, locally-produced produce and they showed up to support us. That's what gives me hope for this year; no matter what happens, our customers will be there for us."
GCM: What do you want Chicagoans to know about the state of farming right now?
"Farms are very resilient businesses; however, we are also very fragile businesses. Most farms have adapted to the 'new normal' of Covid, but we're always subject to weather, crop failures, labor issues, equipment failures, and dozens of potential problems. Chicagoans need to remember that we need their support at all times. Their support is what keeps our business alive."
GCM: What's your call to action to Chicagoans this season? How can Chicagoans propel farmers like you, forward into the future?
"This season and last season are marking turning points for many farms… I believe that the survival of physical farmers markets is in danger right now. Customers need to support the physical farmers market — they need to show up. They are the primary support for small farms like mine. A farmers market is a fragile thing. If people don't come to the farmers market, they will not survive. They are a very important part of our local food system."
---
After last year's crisis-filled season, you can help bring local farmers like Jerry back to market for another chance to make their sustainable businesses thrive. Donate by April 30 and get your donation matched as part of our Covid-19 Farmer Relief Fund just in time for the reopening of our markets on May 1.