Posted Jun 02, 2020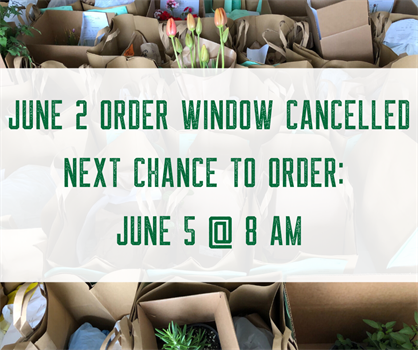 The actions of violent individuals who have taken advantage of peaceful protests paired with the resulting citywide curfew have forced us to make the extremely difficult decision to postpone our home delivery and pick up operations on Wednesday, June 3.

Click here for Green City Market's message of solidarity for all those peacefully rising up to insist on justice and an end to violence against people of color.

We would love nothing more than to serve the community; however, it is out of an abundance of caution and in recognition of the potential challenges farmers, shoppers, and staff could face trying to travel into and throughout the city that we are making this decision.
Due to the nature of our GCM Delivered / Pick Up operations, this means we will not be able to accept new orders tomorrow morning for delivery/pick up on Saturday, June 6.

Customers who made orders for delivery or pick up will have their orders postponed to Saturday, June 6. GCM will communicate with these customers via email and the WhatsGood app platform.

We anticipate resuming GCM Delivered + GCM Pick Up operations by opening the app for orders at 8 a.m. on Friday, June 5 for delivery/pick up on Wednesday, June 10.

If there are any changes to these plans, we will communicate them.
Green City Market's opening date in Lincoln Park and the West Loop continue to be determined pending approval from the City of Chicago.

We greatly appreciate your patience and understanding. We are also incredibly thankful for your support of our farmers through your participation in our GCM Delivered and GCM Pick Up program. Purchasing from our vendors through the app has offered a lifeline to our farmers, allowing them to continue bring local, sustainably grown food to Chicagoans. Thank you!