Posted Feb 24, 2020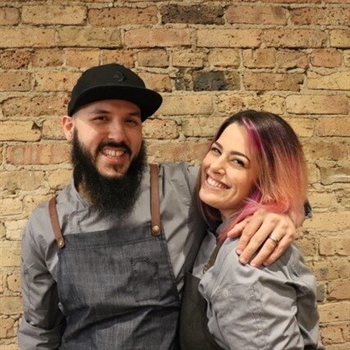 Andersonville's newest culinary destination may be global in cuisine, but its common theme is definitely focused on one thing — sustainability. From biodegradable straws all the way to secondhand furniture (shoutout to you, The Brown Elephant), Gadabout is one of Chicago's best sustainably-minded, locally-sourced restaurants. It also just so happens to be where Green City Market and Angelic Organics Learning Center are kicking off our annual Come to the Table dinner series on February 25.
We thought we'd get to know the Gadabout chefs and owners — and you can too! Limited tickets are still available for Come to the Table at Gadabout, as well as at our March dinner at Café Robey and April dinner at Travelle at the Langham.
Gadabout's cuisine is truly global in scope, yet your product is locally sourced. How do you work with what's available locally to create globally-inspired dishes?

We at Gadabout do approach food with an open mind and bold flavors. Although we are globally-inspired, in a lot of ways, we are a uniquely American restaurant. Because we source local products, it actually makes our job even easier when we have such a solid foundation with which to work. The food doesn't have to be overly complicated to highlight great ingredients.
Because so many different regions in the world share similar cultivars of produce and breeds of animals, we simply find what is available in the Midwest and use that as a base to build upon while having fun. A locally-sourced mushroom needs seasoning? No problem! Maybe in addition to salt, we use fish sauce, lemongrass, palm sugar, and lime to build a flavor profile that might remind you of something you might have had in your travels to southeast Asia. We can also take that same mushroom and prepare it with spices and techniques used in other cuisines, za'atar spices from north Africa, robata-style grilling from Japan, or anything you can conceive.
The possibilities are seemingly endless when you approach food with the idea that we are all more alike than we might think, instead of focusing on what makes us different. We don't claim to be authentic by any means, we are not rooted in tradition in a way to give you an expectation of having the same exact dish somearticle's grandmother would make, most people would probably fail in that regard. We acknowledge tradition and use that as a springboard to progress outward in real time constantly evolving.
Cuisine is often defined by a region's history, but what isn't celebrated often enough is how different cultures blend and influence each other every single day. If you go to a hawker market in Thailand, they sell what they have available. They might be known for certain specialities, but the fare changes depending on market, climate, season, and several factors that just simply cannot be controlled. We attempt to do the same at Gadabout and welcome the challenges, hopefully to everyone's enjoyment!
-Rolf Pedersen, Executive Chef
---
What does sustainability mean to you?

Sustainability means a lot of things to us here at Gadabout. Primarily, I believe, it means taking full responsibility for everything you're bringing in, and throwing out. We've worked hard to think of every aspect of our industry and what has long been considered required waste, and how we can change that to work in a different way. Not only are we making a conscious effort to reduce our amount of waste, but it ends up saving us money in the long run as well.

We've sourced much of our furniture from Brown Elephant—furniture in and of itself is not thought about much in terms of waste, but the reality is that the production and transportation of it is costly both from a small business' financial standpoint, and also from an environmental perspective. Sourcing from local farms as much as possible is a huge part of sustainability as they are consistently finding ways to recycle and be smart about their business operations, not to mention the reduced carbon footprint from a local delivery, rather than product that has to be shipped from across the country.
-James Bateman, General Manager and Owner
---
It's clear that you're passionate about Chicago culture and in investing in local businesses, even sourcing your furniture from the Brown Elephant down Clark Street. How do you envision Gadabout's role in the Andersonville community?

We want to share a piece of ourselves not only through our food and beverage, but in all aspects of our culture here at Gadabout. We are both avid board game players which is why we started up game nights on Tuesdays. This way we can spend time with each other and others in the community in a more laid back, fun environment. The owners of Bonus Round Game Cafe even host these game nights (they are close friends of ours) and this kind of connection between small businesses help strengthen the community.

We want to create as welcoming of an environment as possible, as safe, warm, and comfortable as we can make it. Some of our guests have even provided suggestions on how we can be more sustainable, or commented on our practices already, and that is huge for us.

When Rinska and I started putting the pieces together for our concept, the phrase we kept repeating was "let's change the 'norms' of our industry." Gadabout is meant to be a new breed of restaurant, and we believe that the Andersonville community is the perfect place for us with how progressive and thoughtful everyone is here.

-Rinska Carrasco and James Bateman