Posted Sep 03, 2019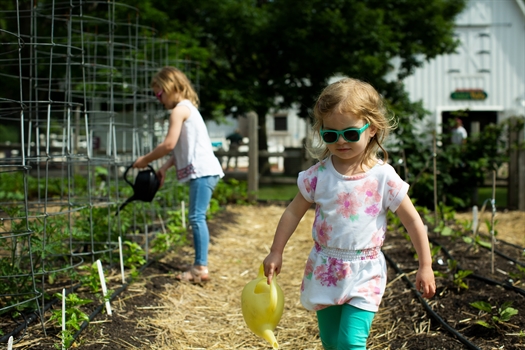 September brings many of our market shoppers' kids back to school. Our Green City Market Edible Education program returned to school this week, too. Our program has grown from 65 students to 475 in just one year. We're excited to get back in the classroom to continue educating the next generation of eaters as we teach students why and how to care about where there food comes from.

One of our students' favorite parts of class is preparing recipes using food sourced right from our Green City Market vendors.

If the fall means a return to school for your family, we've got some great market-inspired snacks for you to whip up!
Healthy Fruit Roll-Ups
Peaches, apples, plums, and pears all can be transformed into fruit leather roll-ups. When you are shopping at the market, plant the idea of making your own fruit roll-ups with your kids. They'll be excited to help make this easy and nutritious snack.
Pick your fruit, boil some water,and bake away for several hours. Switch up the flavors with different fruits and naturally sweetened with honey or maple syrup if needed.
Click here for some some tips on making homemade fruit leather.
Homemade Gummy Snacks
Who doesn't love a gummy bear? Now, you can make your own healthy version with your kids with amazing market finds from beets to peppers to purple cabbage. Here are a few combinations from Modern Parents Messy Kids. We think it would be fun to make them in candy molds to give them a little more flare.
Red/Pink: Red beets, strawberries, carrots and a bit of lemon juice
Orange: Carrots, oranges, ginger
Yellow: Yellow bell pepper, yellow beets, yellow pear, yellow apple and a bit of lemon juice
Green: Kale, kiwi, cucumber, green apple and lime
Purple: Purple cabbage, blackberries, blueberries, a bit of red beet and an apple (concord grapes would work well, too)
Popcorn
Packed with nutrition, one serving of popcorn can fulfill nearly 70% of your daily whole grain needs. Stop by Nichols Farms and pick up some popcorn on the cob, toss it in a paper bag, and microwave for two minutes and you will have the best popcorn you've ever tasted. You can always drizzle a little butter and add some fresh herbs like dill or parsley from Smits Farms. Or if you want to get really creative, toss the popcorn with a bit of black garlic from The Wisconsin Fermentation Company.
Fruit and Veggie Chips
The official start of fall is still a few weeks out, but we are starting to see a few apples at market and they always make for a great crunchy snacks. Crispy oven-baked apple chips add a dose of fiber and after-school fuel. Plus, baking fruit chips are a great alternative for kids with texture sensitivities that don't love raw fruit.
And speaking of chips, who doesn't love a crispy potato chip? Instead of buying a bag of chips, making your own can be fun and super tasty. You can get creative with toppings as well as veggies. Why not make your own version of veggie chips? Beets, rutabaga, sweet potato, carrots, zucchini and the good ole russet all are fantastic options for creating your own veggie chips.