Posted Dec 06, 2022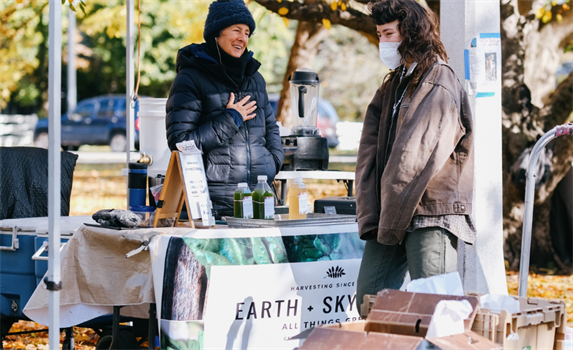 Nearly three years into the pandemic, a hunger crisis persists in our communities. 1 in 7 households experienced food insecurity in Cook County this year. It's well documented that government programs like the Supplemental Nutrition Assistance Program (SNAP) do not reach everyone in need.
Chicagoans face obstacles to accessing SNAP including language barriers and citizenship status. SNAP also fails to cover those who hover just above the poverty line. Individuals and families must have a gross income at or below 130% of the federal poverty line to qualify. That means that in 2022, a family of three with a gross annual income of $30,000 did not qualify for SNAP. Plus, according to the Center on Budget and Policy Priorities, most people who do have SNAP benefits run out of those benefits by the third week of the month.
Food pantries and community fridges help to fill the gaps left by government assistance. However, these institutions largely lack access to fresh, local, sustainably-grown food. That's why Green City Market purchases food directly from local farmers and manages its distribution to community fridges, like the Cupboard located at Swedish Hospital.
The food-insecure community the Cupboard serves has come to depend on Green City Market for consistent access to fresh, high-quality food like local produce, eggs, tofu, meats, and grains — items that are often undersupplied to pantries and community fridges.
But we're depending on your support to continue donating food to the Cupboard in the new year. Please, donate today to help feed neighbors in need this winter.
---
We spoke with AK Kritt, RD, LDN, the Food Connections Coordinator at Swedish Hospital about why and how community fridges became so prevalent in the aftermath of the pandemic and the impact of consistent donations from Green City Market has on the community the Cupboard serves.
GCM: Community fridges proliferated during the onset of Covid, but they've stuck around in many communities, including at Swedish Hospital. Why do you think that is? What gap do community fridges fill for folks facing food insecurity?
Kritt: Community fridges and no-questions-asked pantries, like the Cupboard at Swedish Hospital, allow anyone to access necessary food without stigma or fear. Swedish Hospital is located in the Albany Park neighborhood, which is home to many immigrants and refugees who face added barriers to accessing the typical food safety net due to their immigration status.
The no-questions-asked pantry model doesn't require patients to register or fill out any identifying information, which both helps immigrants who are fearful of providing documentation and also reduces stigma for folks who don't want [others] to know that they are accessing emergency food.
The location of the Cupboard inside of the hospital is another benefit of this pantry model because it helps to connect patients, community members and hospital employees who need emergency food but might not know where to start with longer-term food resources.
We include [flyers] for locations of local food pantries and where to sign up for benefits such as SNAP or WIC on the no questions asked pantry. The goal of our Cupboard is to provide immediate food for those within our hospital walls and to act as a conduit to existing systems within the community when possible.
GCM: What impact has Green City Market's food donations this year had on the Cupboard and the folks who access it?
Kritt: Green City Market's food donations have allowed us to provide a greater variety and amount of perishable foods to folks who come to our Cupboard. The Cupboard at Swedish Hospital relies on community food donations.
Having the consistent donations from Green City Market have helped us to expand the amount of food we have been able to provide as well as include foods we wouldn't typically provide such as tofu and local eggs. The donations from GCM have been an invaluable help to keeping our Cupboards stocked.
---
PS: Now's the best time to donate! We're pleased to announce that an anonymous donor has joined our friends at the Alvin H. Baum Family Fund to pledge to match all your donations now through December 31, $1 for $1, now up to $55,000.