Posted Aug 25, 2022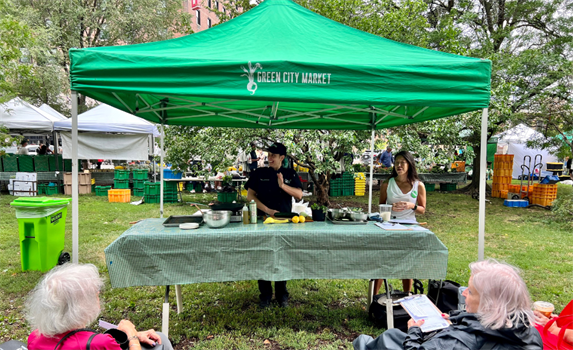 Last week, Lisa Counts, Executive Chef of The Chopping Block, joined us at GCM Lincoln Park for a Culinary Demo. Lisa demoed a recipe for Fried Zucchini Bruschetta. You can find the recipe below.
---
Yield: 4 servings as an appetizer
Active time: 35 minutes
Start to finish: 35 minutes
Ingredients
1-2 medium zucchini, cut into 1/4-inch slices on the bias
1/4 cup grapeseed oil
1 cup all-purpose flour
2 eggs
1 cup Panko bread crumbs
1 Tablespoon fresh oregano, minced
2 Tablespoons grated Parmesan
Salt and pepper to taste
For the topping:
2 Roma tomatoes, cut into brunoise
1/2 head fennel, cut into brunoise
2 shallots, cut into brunoise
1/2 cup feta, crumbled
1 teaspoon fresh oregano, minced
1/4 cup arugula, chiffonade
Lemon juice, to taste
Olive oil to coat
Salt and pepper
instructions
Preheat the oven to 250° and heat a sauté pan with the grapeseed oil.
Slice the zucchini and season with salt and pepper.
In a shallow dish, measure out the flour.
In a separate shallow dish, beat the eggs until well blended.
In a third shallow dish, mix the Panko, Parmesan and oregano.
Working in batches, dip the zucchini into the flour, then the eggs, and then right into the panko mixture, ensuring each piece is well coated.
Fry zucchini "chips" in batches until they are golden brown and crisp. Avoid overcrowding the pan. Transfer to a rack set over a sheet tray, and sprinkle with a touch of salt.
Keep warm in the oven while frying the remaining zucchini.
Combine all of the topping ingredients in a bowl and season to taste.
Top each of the fried zucchini chips with the bruschetta topping and serve.
Interested in giving this recipe a go? Stop by GCM to pick up all the ingredients! We'll see you soon.