Posted Mar 14, 2019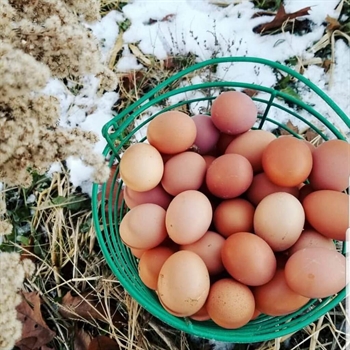 As we gear up for spring, we think you should feed your senses with all things Green City Market. Simply walking around the Indoor Market you will feel connected to summer and the outdoors. You'll want to walk right to Tomato Mountain to take home a bunch of their amazing spinach that they will have back at the Indoor Market.
What goes better with fresh spinach? Why not make a frittata with spinach and farm fresh eggs? There is no better way to start your day. Alden Hills' girls have been working overtime and they have a ton of beautiful eggs waiting for your at Saturday's market.
Food makes us feel good but it also influences our mood. According the the Cleveland Clinic research demonstrates that certain foods affect powerful mood-modifying brain chemicals called neurotransmitters. We've heard of serotonin and dopamine but did you know that eating carbs like fruit, dairy, starches can help calm you, improve your move and even fight depression? Have you noticed after you eat protein rich food like meat, poultry, dairy or legumes you are more alert and can concentrate more? At Saturday's market you can feed your mood with everything you need to feel better.