Posted Feb 21, 2019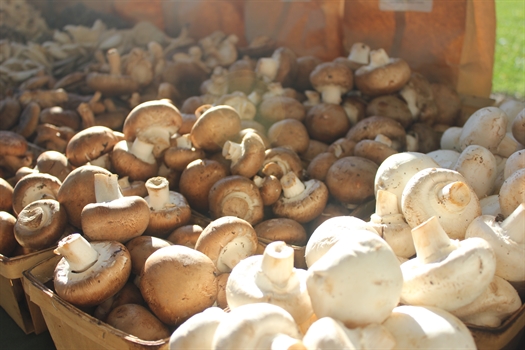 There is no better place to shop for your health and your heart than Green City Market. This week we asked Lindsay Colman, Registered Dietitian at AMITA Health, to give us some tips on heart healthy market foods.
Just as our New Year's Resolve might be starting to dwindle… along comes February to remind us that health and self-care are not just for January! February is both American Heart Month and National Cancer Prevention Month.
The good news, Green City Market lovers, is that one of the very best things you can do for your health is eat more plants. And despite these long winter months, the Market is still full of delicious seasonal goodies that will help you take good care of your heart.
Mushrooms are low-fat, and like all plant foods, cholesterol-free. Small amounts of protein and a high water content makes them low-calorie, but hearty and satisfying. The rich flavor of mushrooms helps reduce the need to salt while cooking, and their potassium content can help offset the effects of sodium on blood pressure. Soluble fiber found in mushrooms can help reduce blood cholesterol, and may help prevent plaque build-up in blood vessels. Mushrooms are also one of the few plant-based sources of Vitamin D, an especially important nutrient for those of us living through a dreary Midwest winter. Maintaining adequate levels of Vitamin D is important for everything from bone health, to cell growth and immune function, to reduction of inflammation. Mushrooms also contain B vitamins and the antioxidant, selenium.
Fresh garlic contains compounds called allin, allicin and ajoenes that have been shown to lower triglycerides, slow or prevent blood clotting,* and may even help reduce blood pressure – all very important factors in maintaining cardiovascular health. Because these compounds can be damaged during processing, garlic powder does not provide the same health benefits as whole garlic.
Mushrooms and garlic (along with its other allium cousins: onions, shallots, leeks, etc.) also contain insoluble fiber in the form of non-digestible carbohydrates called polysaccharides. These compounds act as prebiotics, or food for the beneficial bacteria in your intestinal tract (microbiota). These "good bacteria" have been shown to influence everything from hunger/ food cravings, to immune function and mood. Researchers continue to find new links between our microbiome and our health – so nourishing those little guys is a smart move!
Olive oil is a wonderful source of "healthy fat" called monounsaturated fatty acids that have been shown to help lower LDL cholesterol and total cholesterol levels, while increasing HDL levels. It is also believed that olive oil may protect the cells lining artery walls, improving circulation and blood pressure. Olive oil is also a rich source of the antioxidant Vitamin E, and beneficial compounds called polyphenols.
The recipe below was featured in a round-up of delicious mushroom recipes from Bon Appétit. It's a perfect cozy meal for winter; it's relatively simple, and chock full of heart-healthy Market finds. Enjoy!
*Patients taking warfarin or other blood thinners should check with their doctor before taking garlic supplements. Whole fresh garlic, or garlic powder used in cooking does not pose an issue.
Oven Polenta with Roasted Mushrooms and Thyme
Ingredients
1½ lb. mixed mushrooms (such as crimini, shiitake, oyster, and/or maitake), torn into 1" pieces
4 sprigs thyme, plus leaves for serving
6 garlic cloves, smashed
Kosher salt, freshly ground pepper
¼ cup extra-virgin olive oil
2 Tbsp. unsalted butter
1 cup polenta
4 oz. Parmesan, finely grated, plus more for serving
1 Tbsp. red wine vinegar
Flaky sea salt
Recipe Preparation
Place racks in upper and lower thirds of oven; preheat to 325°. Combine mushrooms, thyme sprigs, and garlic on a large rimmed baking sheet. Season generously with kosher salt and pepper; drizzle with oil. Toss to coat mushrooms, then spread out in an even layer. (Make sure not to crowd the mushrooms on the baking sheet; otherwise, they'll steam instead of getting crispy.) Transfer to upper rack in oven and let mushrooms roast while you prepare polenta.
Bring 4½ cups water to a simmer in a large ovenproof saucepan over medium-high heat. Add butter and a generous pinch of kosher salt and whisk to melt butter. Gradually add polenta, whisking constantly. (Gradually incorporating the polenta into the water is key to preventing clumps.) Return mixture to a boil, immediately cover pot, and transfer to lower rack in oven. Bake polenta, shaking baking sheet with mushrooms occasionally, until polenta is tender, 25–30 minutes.
Remove polenta from oven. Crank up oven temperature as high as it will go (but don't broil). Continue to cook mushrooms until crisp around the edges, 5–10 minutes longer.
Meanwhile, carefully uncover polenta and whisk vigorously, scraping bottom of pan, until polenta is smooth and thick. Gradually add 4 oz. Parmesan, whisking constantly until melted and incorporated; taste and season with more kosher salt and pepper. Cover and keep warm over low heat while mushrooms finish roasting.
Remove mushrooms from oven; drizzle with vinegar. Toss to coat; let cool slightly.
Divide polenta among bowls and top with mushrooms, thyme leaves, sea salt, and more Parmesan.