Posted Aug 18, 2022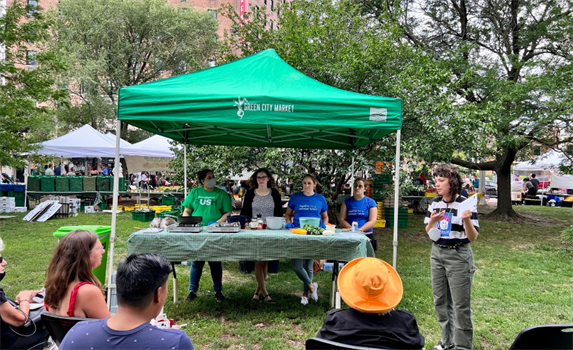 Last Saturday, Amanda Kritt and Annie Scott from Swedish Hospital joined us at GCM for a food access demo. They shared a recipe for Eggplant & Tomato Bruschetta on a Toasted Baguette. This demo focused on ingredients that customers can purchase with our GCM For All SNAP matching program. Check out the recipe below.
Ingredients
2-3 medium tomatoes, roughly chopped

1 tablespoon olive oil

1 clove garlic, minced

Salt and pepper to taste

1 small eggplant, diced

Handful of basil, torn into bite-sized pieces

1 cup Water
Bread
Instructions
Cook tomatoes with oil, garlic, salt and pepper until soft
Crush tomatoes with fork
Add eggplant to pan with 1 cup of water
Simmer for 15 minutes
Add basil to pan
Toast bread
After toasted, rub bread with garlic and oil
Top toasted bread with tomato eggplant mixture
Enjoy!