Posted Jun 25, 2019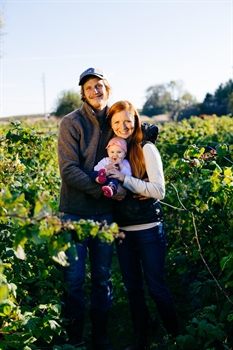 As we are digging into strawberries and anticipating raspberries, blueberries, and blackberries, Paul Meulemans of Wild Coyote Farms says he can't wait for watermelon.
"There's nothing like burying your face into a freshly picked watermelon in the field," according to Paul Meulemans.
The Meulemans are first generation farmers growing on 4.5 acres of land.

They are one of our newest Wednesday-only vendors, we wanted you to hear from them in their own words on our blog.
What do you want people to know about Wild Coyote Farm?
I want people to know that when they buy from Wild Coyote Farm, they are buying produce that supports their health and the environment. We are passionate about growing quality organic produce and doing so in an efficient and sustainable manner.
Why did you begin farming?
As a first-generation farmer, we identified two reasons why farming is right for us. First, we saw how conventional agriculture is environmentally destructive. Being the idealists that we are, we decided to dig in and do our small part. Second, organic farming aligns well with the lifestyle that we would like to have as a family. We like being outdoors, working long hours, and providing quality food for our friends and neighbors.
How long have you been farming?
We began to build infrastructure three years ago but this is our second season farming full-time.
What is your third party certification and why did you choose it?
We are both USDA Organic and Certified Naturally Grown. This is our first year being Certified Organic. We decided to maintain the CNG certification that we've had for the past three years to support the grassroots movement.