Posted Mar 28, 2019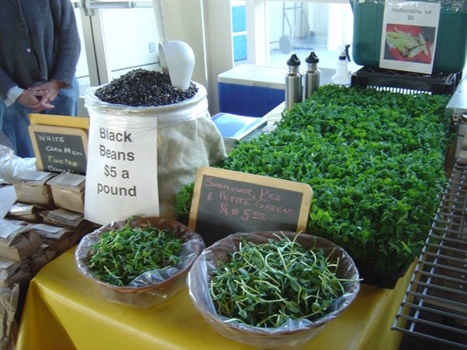 Tracey Vowell of Three Sisters Garden first came to Green City Market as a chef – as she puts it "buying gobs of product from market farmers." Now, the roles have reversed and she is a farmer selling gobs of product to Chicago chefs and residents.
The Three Sisters Garden in downstate Kankakee spreads across 35 acres of land and focuses primarily on what the Native Americans referred to as the three sisters - corn, beans, and squash.
Like most upstart farmers, Tracey tells us she thought she would grow some of everything when she first started out. "I had a dream of pulling radishes, carrots, and beets from the soil with my bare hands," said Tracey. "In our early years, place of origin, in the New World, was very important. It is still primarily what we produce, corn, beans, squash being the three sisters, but also tomatoes, chiles, sweet peppers, etc. all originated here. Time management is very important because we have chosen to work with a very small, nuclear workforce."
The small four person team works constantly to offer consistent and reliable products, but also to offer unique and less appreciated crops that will draw attention to and support their boutique farm. "We work to produce quality, delicious ingredients that will build our image as a tiny but mighty farm," says Tracey.
Coming off a winter of milling corn and cracking and cleaning pecans, the Three Sisters team manages their year -round and hoophouse plantings -while keeping up with regular maintenance on the farm. As they gear up for peak season, Tracey reflects on how important cultivating relationships with her customers at Green City Market has become. "I work to staff it as best I can so that I have time to develop rapport that leads to familiarity and long relationships with regular customers at the market. Sharing a recipe or a story doesn't take much time, and has led to many dedicated market customers and growing friendships that I cherish. To some extent, especially in the growing season, market may very well be all the social time I get in a given week." We think that is simply priceless.
The relationship between farmer, food, and consumer is one of community. And that's what we want to encourage people to dig into - to get back to your roots. We can't wait for Three Sisters' pea shoots to pop up this summer. But you can get a taste of many of Three Sisters' goods, including popcorn, beans, and pecans at the Indoor Market this Saturday.